Alfa Romeo 8C 2300 LM Long Wheelbase Spider 1932
Vittorio Jano joined Alfa Romeo in 1923 after working for Fiat. He was responsible for all Grand Prix cars from 1924 to 1937- the P2 in 1924 which won the 1925 world championshipe , the Tipo B also called P3, the 8C-35 or the 12C-36, as well as for the Lancia Aurelia, the Lancia D23-24 sports racing and the Lancia D50 Grand Prix cars after the War. At the same time , Jano designed a succession of touring and sports cars, culminating in the Alfa Romeo 8C 2300 which had oustanding competition record with four wins at 24 Hours of Le Mans consecutively in 1931, 1932, 1933 and 1934, at the Mille Miglia in 1932, 1933 and 1934 and many more victories on all the famous circuits in the world. The Alfa Romeo 8C 2300 is rated by many to be the greatest sports and racing car of all times.
The Alfa Romeo 8C 2300 was proposed in two sizes wheelbase , the corto (2750 mm) and the longo ( 3100 mm). 352 examples were produced between road cars and racing contenders. Coachwork were proposed by specialists as Touring, Zagato or Figoni. Most versions were open with two or four seats and a few closed bodies.
The model in illustration here is ex-wotks Le Mans 24 Hours race car driven by Sir Henry Birkin and Earl Howe in 1932 when the were leading the race for several hours before retiring with engine trouble. This car was sold for £ 2,689,500 ( Euros 3,400,566) at Bonhams Auction Sale at Goodwood in 2012. Amongst those three 1932 factory 8Cs for Le Mans it was fitted with regulation racing bodywork by Carrozzeria Touring of Milan, but featured a different windscreen and more robust front wing stays compared to its sister cars.
The team Birkin and Howe had won Le Mans 24 Hours 1931 with their Alfa Romeo 8C 2300 in front of a Mercedes SSK. in 1932 Alfa Romeo filled first and second position of the the podium from the six cars entered. In 1933 seven examples of 8C 2300 were entered and three cars filled the podium. In 1934 Luigi Chinetti and Philippe Etancelin won the endurance race in an Alfa Romeo 8C 2300 MM -LM when seven 8C 2300 had started the race
The 8C 2300 engine comprised of two four cylinder blocks, end to end, with twin overhead camshafts and hemispherical combustion chambers. The 10 bearing crankshaft was split in the middle , with a pair of gears at its heart that drove the camshafts, the Roots supercharger, oil and water pumps and the generator. 2336 cc 142-165 hp 1000-1260 kg
In September at the 2023 Hampton Court Palace Concours of Elegance one Alfa Romeo 8C 2300 participated in the celebration of Le Mans Centenary special event.

Photos source Hampton Court Palace Concours of Elegance 2023 Media Archive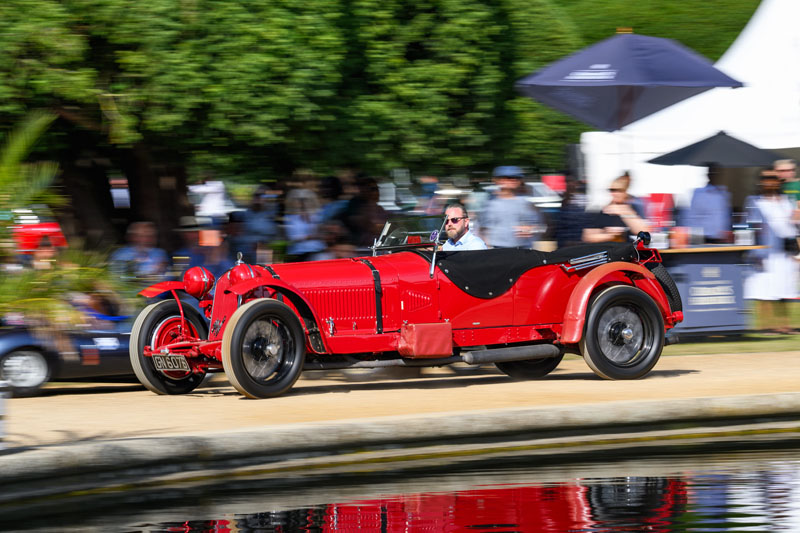 Sources of this article: Lukas Huni- Bonhams-RM Sotheby -LeMans 1930-39 Quentin Spurring
Wallpapers for Alfa Romeo 8C 2300 LM Long Wheelbase Spider 1932 (click on image to enlarge