Aston Martin Valkyrie hypercar preparing for Le Mans 24 Hours 2021
Last Update- July 2019
March 6th 2019-Presentation of a completed version of Aston Martin Valkyrie at 2019 Geneva Motor Show
June 16th 2019-Aston Martin to enter at least two works Valkyrie race cars in the 2020/21 FIA World Endurance Championship and Le Mans 24 Hours 2021-24
July 14th 2019- Aston Martin Valkyrie showcased dynamically ahead of 2019 British GP
1st March 2019, Gaydon, England: With the first Aston Martin Valkyrie prototypes beginning to take shape, now is the time to reveal the full performance figures delivered by Aston Martin Valkyrie's hybrid powertrain.

The heart of the Aston Martin Valkyrie's powertrain is its clean sheet Cosworth-built 65° naturally aspirated 6.5-litre V12 engine. Evoking the spine-tingling, ultra-high-revving F1TM engines of the 1990s, but benefitting from two decades of progress in design, material and manufacturing expertise, it sets exceptional new standards for maximum rpm and weight.
With a certified peak power output of 1,000bhp (or 153.8 bhp-per-litre) at 10,500rpm, it can continue on to a maximum 11,100rpm. This is a world first for a naturally-aspirated, emissions-compliant road car. Peak torque is 740Nm at 7,000rpm. These peak outputs are purely delivered by the ICE (Internal Combustion Engine), with a further performance boost delivered by the battery hybrid system.
The first appearance of a completed Aston Martin Valkyrie was at the 2019 Geneva Motor Show together with an Aston Martin RB 002 Valkyrie AMR PRO as well as the projects RB 003 or the future mid engined Aston Martin Vision Vantage .
14 June 2019, Le Mans: On the eve of the 60th anniversary of its glorious win in the 1959 24 Hours of Le Mans, Aston Martin announces that it will once again bid for outright victory in the French endurance classic in 2021.

Following the announcement of the Automobile Club de l'Ouest's decision to introduce hypercars to the top category of the FIA World Endurance Championship (WEC), Aston Martin will field a minimum of two works Aston Martin Valkyrie hypercars, specially-developed for the 2020/21 FIA WEC season, including the 2021 24 Hours of Le Mans.
When describing the powertrain of a traditional road car, or even a conventional hybrid road car, it is easy to separate the main components and describe their individual roles. In the Aston Martin Valkyrie, where the design and engineering of each and every part has been approached with the meticulous ethos of Red Bull Advanced Technologies, out of their Formula One® DNA for maximum efficiency and ultimate performance, many key components do more than one job.

Using the Aston Martin Valkyrie's powertrain as an example, both the V12 engine and gearbox casing act as stressed members of the vehicle structure. The latter provides rear suspension mounting points, while also helping provide even greater structural rigidity and eliminating the weight of an additional rear subframe.
The battery pack integrates all relevant sub-systems and serves as the carrier for the vehicle's power electronics, while in addition to its Power Boost and Energy Recovery System functions, the E-Motor aids the mechanical performance of the gearbox. Aston Martin Valkyrie exemplifies intelligent engineering wherever you look.
A KERS-style boost system akin to those fitted to F1TM cars, the Aston Martin Valkyrie's hybrid system has been developed by two main technical partners; Integral Powertrain Ltd, who supplied the bespoke electric motor, and Rimac for the lightweight hybrid battery system.

As a result, the full hybrid system contributes an additional 160bhp of power and a further 280Nm of available torque with the certified max power output of Aston Martin Valkyrie standing at a stunning 1,160bhp @ 10,500rpm. Equally, with the full hybrid system, peak torque will stand at 900Nm @ 6,000rpm.
Saturday 13 July 2019, Silverstone, UK: Aston Martin Valkyrie has broken cover after making its dynamic public debut in front of an enthusiastic crowd ahead of the 2019 British Grand Prix.

Piloted by Aston Martin High Performance Test Driver Chris Goodwin, the 1,160bhp machine, took to Silverstone's world-famous Grand Prix circuit for its first public demonstration run. With the focus not on outright lap time, today's showcase offers a glimpse of what is to come from this extraordinary hypercar.

Following months of digital modelling and simulation work alongside both Aston Martin and Red Bull Advanced Technologies' engineers, today's drive becomes one of the first times that Aston Martin Valkyrie has been driven in the physical world - a testimony to the technological capability of the team's cutting-edge development techniques.
Aston Martin Valkyrie, the world's most extreme road car and platform for a future FIA World Endurance Championship (WEC) challenger, is the combined vision of Aston Martin Red Bull Racing's Chief Technical Officer Adrian Newey, Aston Martin EVP and Chief Creative Officer Marek Reichman and Aston Martin VP and Chief Special Operations Officer David King. It was created as a result of a technical and strategic collaboration between Aston Martin, Red Bull Advanced Technologies and project partner AF Racing.
Wallpapers for Aston Martin Valkyrie hypercar for Le Mans 24 Hours 2021 (click on image to enlarge)
Aston Martin Hybrid Valkyrie 2020 -specification unveiling
In July 2016 Aston Martin and Red Bull introduced there common project AM RB 001 for a hypercar of extreme performance. At the 2017 Geneva Motor Show Aston Martin and Red Bull introduced the now called Aston Martin Valkyrie intended for up to 150 road legal automobiles and 25 track only special versions. Details of the powerplant and aerodynamic of the automobile are gradually unveiled as the development is progressing. The first automobile could be delivered in 2020. The Aston Martin Valkyrie's proposed powerplant will be an hybrid combination of a naturally aspirated V12 assisted by an Energy Recovery System prepared by Slovenian specialist RIMAC. The track only Valkyrie is unveiled in 2018 as the Valkyrie AMR PRO. In early January 2019, Aston Martin is introduction a Track Performance Pack allowing conversion of road legal Valkyrie in track optimized version and back suitable for to road again; it is the occasion to introduce the full personalization program by 'Q by Aston Martin' . The V12 engine prepared especially by Cosworth has been gradually unveiled.
| | |
| --- | --- |
| | |
Aston Martin's Executive Vice President & Chief Creative Officer Marek Reichman said, "This is simply the best car in the world if you want something bespoke and we are really pushing the boundaries to match the dreams of our customers. Every single element of this hypercar, including its performance, can be personalised. The materials are very much about science, the art of creativity and the ability to create a unique solution that doesn't detract from this exceptional car's performance capability".
Since the first reveal of the Aston Martin Valkyrie hypercar in July 2016, Aston Martin, Red Bull Advanced Technologies and project partner AF Racing have been working intensively to further develop the Valkyrie's aerodynamics, body styling and cockpit packaging.
The teardrop-shaped cockpit's upper body surfaces and lower tub contours follow the envelope of space available between the huge full length Venturi tunnels that run either side of the cockpit floor. Drawing huge quantities of air beneath the car to feed the rear diffuser, these tunnels are the key to generating the Aston Martin Valkyrie's extraordinary levels of downforce while keeping the upper body surfaces free from additional aerodynamic devices that would spoil the purity of the styling
To maximise interior space the seats are mounted directly to the tub, with occupants adopting a reclined 'feet-up' position reminiscent of today's Formula One and Le Mans Prototype race cars, ensuring driver and passenger are extremely safe, perfectly supported and feel completely at one with the car. A four-point harness comes as standard, while an optional six-point harness will be offered for those who intend to do more track driving.
The Aston Martin Design team were keen to keep distractions to a minimum and focus the driver on the road ahead. To this end all switchgear is located on the steering wheel, with all the vital signs shown on a single OLED display screen. The steering wheel is also detachable, both to aid ingress and egress, and to serve as an additional security device.
Great attention has been taken with the glasshouse design to ensure forward and peripheral side-to-side vision is virtually uninterrupted. To avoid any unwanted aerodynamic disturbance or stylistic 'clutter' traditional door mirrors have been replaced by discreetly mounted rear facing cameras in each of the Aston Martin Valkyrie's flanks. These feed two displays which are positioned at the base of each A-post to mimic the view provided by conventional door mirrors. The all-enveloping bodywork and roof-mounted engine air intake means there is no rear window, negating the requirement for a rearview mirror.
While the essence of the original Aston Martin Valkyrie exterior design remains unchanged, Adrian Newey's pursuit of downforce and aerodynamic efficiency has driven many detail changes to the bodywork. These requirements have been faithfully incorporated into the design by the Aston Martin Design Team in a genuine case of form following function.
One of the biggest changes in this latest model are openings in the body surface between the cockpit and front wheel arches, Adrian Newey having found that they were the key to achieving considerable gains in front downforce. It was then the job of the Aston Martin Design Team to integrate these new apertures into the overall design and ensure they had aesthetic merit as well as aerodynamic function.
While aerodynamics and downforce are the dominant story, Aston Martin Valkyrie features some delightful details. Some of the most striking are the headlights, which take inspiration from the pure functionality of a Formula One car's components. Aston Martin's designers stripped things back to the bare essentials, celebrating the engineering rather than concealing it behind cladding. With the low and high beam elements attached to an intricate exposed anodised aluminium frame not only are the headlamp units a work of art, but they are 30-40 per cent lighter than the lightest series production headlamps available to Aston Martin.
Further detail innovation can be found at the rear of the car, with the centre high mounted stop light (CHMSL). Mounted on the tip of the small shark's fin that runs down the spine of the Aston Martin Valkyrie's airbox and rear bodywork, the light is just 5.5mm wide and 9.5mm high. Illuminated by a red LED it is the world's smallest CHMSL and evidence of how every element of the Aston Martin Valkyrie is scrutinised in the pursuit of eliminating unnecessary weight and drag.
Aston Martin Creative Director of Exterior Design, Miles Nurnberger, said of the Aston martin Valkyrie's design evolution: "I would say we're around 95 per cent of the way there with the exterior design. Much of what you see is actually the structure of the car, so this had to be signed-off relatively early in the project. The remaining areas of non-structural bodywork are still subject to evolution and change as Adrian [Newey] continues to explore way of finding more downforce. The new outlets in the body are a case in point. Ordinarily the last thing we'd want to do to one of our surfaces is cut a hole in it, but these vents work the front wings so much harder that they've found a significant gain in front downforce. The fact that they are so effective gives them their own functional beauty, but we've finessed them without impacting on their functionality. That they also serve as windows through which to view the fabulous wing section front wishbones is a welcome bonus!"
Cosworth designed naturally aspirated 6.5 Litre 65° V12 with 1000 bhp at 10.500 rpm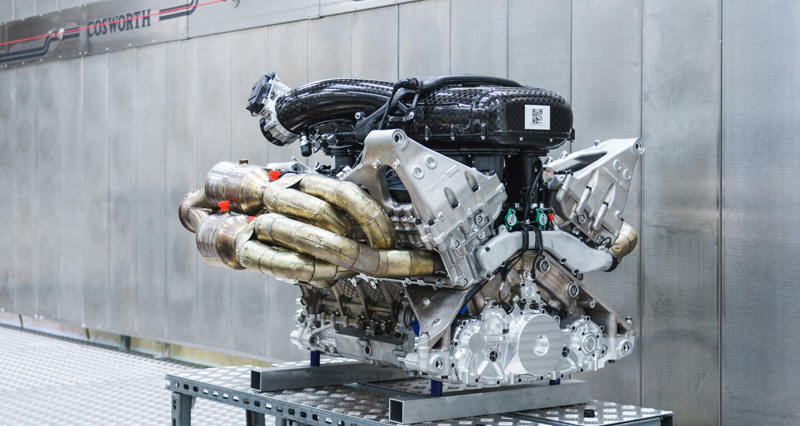 With development of its new V12 progressing apace the time is right to reveal some closely guarded secrets of the Aston Martin Valkyrie's extraordinary powerplant. Developed in conjunction with longtime technical partner Cosworth, the new V12 had to satisfy a simple, yet extraordinary brief: to create the ultimate expression of the internal combustion engine.
The programme called for a normally aspirated engine from the very beginning, for while turbocharging has absolutely come of age and offers significant and widespread benefits - especially in a road application - the greatest driver's car of the modern era demands an internal combustion engine that sits at the absolute pinnacle for performance, excitement and emotion. This means the uncompromising purity of natural aspiration.
| | |
| --- | --- |
| | |
The resulting engine is an absolute masterpiece. Displacing 6.5-litres the 65° V12 sets exceptional new standards for maximum rpm and specific output with a certified peak power output of 1000bhp (or 153.8 bhp-per-litre) at a mind-blowing 10,500rpm, before continuing on to a maximum rpm figure of 11,100: figures that are unprecedented for a naturally-aspirated, emissions-compliant road car application. Peak torque is 740Nm at 7,000rpm. With these peak outputs purely delivered by the ICE (Internal Combustion Engine), Aston Martin Valkyrie's performance figures will be further boosted by a battery hybrid system, details of which will be revealed later in the development programme.
Cosworth's F1 expertise is also evidenced in the Aston Martin Valkyrie engine's weight, which also set new standards. Given the engine is a fully stressed element of the car (remove the engine and there is nothing joining the front wheels to the back!) and the level of technology in the combustion system, keeping weight down was a huge challenge. Especially as the programme actively avoided use of extreme materiel alloys which are so new that material properties over time are unproven.
Aside from the major castings - block, cylinder heads, sump and structural cam covers - the majority of the engine's internal components are machined from solid material. These include Titanium conrods and F1TM-spec pistons. Not only does this allow the use of material with ideal properties, but the ultra-fine machining process means greater consistency and components optimised for minimum mass and maximum strength. The result is an engine that weighs just 206kg. By way of comparison, Cosworth's 3.0 litre V10 F1TM engines (the last before weight limits were imposed by the FIA) weighed 97Kg. If scaled-up to 6.5 litres this pure race engine would weigh 210kg.
Bruce Wood, Cosworth Managing Director, said of the project: "Being asked to create a naturally aspirated V12 engine fit for what will surely be one of the most iconic cars of all time is an immense source of pride for Cosworth. Decades in F1TM taught us to expect a pretty demanding specification from someone with Adrian Newey's unsurpassed track record, but when we started talking about specifics of power, weight, emissions compliance and durability combined with ever harder and sometimes conflicting targets, we knew this would be a challenge like no other. It's been a fantastic partnership between Aston Martin, Red Bull and Cosworth with each party bringing a distinct clarity of vision that has proved essential in delivering an internal combustion engine way beyond anything previously seen in a road car application."
Dr. Andy Palmer, Aston Martin Lagonda President and Group Chief Executive Officer, said of the Aston Martin Valkyrie's V12 engine: "To anyone with a drop of petrol in their blood, a high-revving naturally aspirated V12 is the absolute pinnacle. Nothing sounds better or encapsulates the emotion and excitement of the internal combustion engine more completely. Despite the apparently insurmountable challenges it presented, there was never any question that the Aston Martin Valkyrie would make do with anything less. From the outset the team at Cosworth were unflinching in their commitment to achieving benchmarks which pushed the boundaries of the possible. The result is a quite extraordinary engine. One which I doubt will ever be surpassed."
Paul Damiens-informations and illustrations autoconcept-reviews, Aston Martin Media Archive and Newspress
Aston Martin Hybrid Valkyrie 2020 : Wallpapers (click on image to enlarge)
Aston Martin Valkyrie Track Only AMR PRO
The Track only version of the Aston Martin Valkyrie was unveiled at the 2018 Geneva Motor Show.
Taking the world's most extreme road car as its basis, the AMR Pro version distills the combined knowledge, expertise and aspirations of Adrian Newey, Chief Technical Officer of Aston Martin Red Bull Racing, and Aston Martin's most talented design and engineering teams, led by Marek Reichman - Aston Martin's Chief Creative Officer - and David King - Chief Special Operations Officer - to create a car with the performance capabilities of a current Le Mans LMP1 prototype or Formula One car.
Full technical details of the Valkyrie AMR Pro will be revealed in due course, but those headline figures that can be disclosed provide a remarkable statement of intent. Key to the car's unprecedented track performance are its lightweight construction and high-downforce aerodynamics - a combination that will result in a car that weighs 1000kg, yet is capable of generating more than its own weight in downforce.
To achieve this remarkable figure all the Aston Martin Valkyrie AMR Pro's aerodynamic surfaces have been revised in the pursuit of significantly increased downforce. Most obvious changes are wider bodywork and much larger front and rear wing elements, which together with revised active aerodynamic control strategies tailored for the demands of track driving. In order to save weight this bodywork uses a lighter construction of carbon fibre. Likewise the removal of items such as the heater/de-mister blower and infotainment screens fitted to the road car, and through the fitment of new ultra-lightweight track-specific components such as a polycarbonate windscreen (with heater elements) and side windows, carbon fibre suspension wishbones, moulded race seats and a lighter exhaust system ensure the AMR Pro hits its 1000kg weight target.
| | |
| --- | --- |
| | |
Calibration changes to the 6.5-litre naturally-aspirated V12 engine's emission control systems and re-programming of the Energy Recovery System control software will result in a combined power output of more than 1100bhp - more than the Valkyrie road car and a figure than comfortably exceeds the magic 1:1 power-to-weight ratio. That's to say more than 1bhp to propel every kilogram of mass.
The single-minded pursuit of top speed has never been part of the Valkyrie ethos, yet even in high-downforce track configuration the AMR Pro is still capable of hitting 225mph. Of far greater benefit to lap time is the track-only Valkyrie's ability to achieve lateral acceleration in excess of 3G - a figure far beyond that of any other car derived from a fully homologated road car.
Red Bull Racing's Chief Technical Officer, Adrian Newey said: "Seeing the Valkyrie AMR Pro and this year's Aston Martin Red Bull Racing F1TM show car together at Geneva is a special moment for me. The Aston Martin Valkyrie road car draws extensively from the knowledge I have gained during my career in Formula One, but the AMR Pro version has allowed me to work beyond the constraints of road legality, or indeed practicality! We've told a few of its secrets, but by no means all. I will leave it to the public to ponder the lap time predictions. Suffice to say they're quite impressive."
Speaking at the debut event, Christian Horner, Team Principal of Aston Martin Red Bull Racing said: "It is hugely rewarding to see the Valkyrie AMR Pro unveiled here in Geneva, another evolutionary step in the relationship between Red Bull Racing and Aston Martin. We set out together with an ambitious and pioneering road map to create something extraordinary in partnership, and the Valkyrie AMR Pro is yet another turn of that wheel."
Just 25 Aston Martin Valkyrie AMR Pros will be built. Deliveries are expected to commence in 2020. All cars are sold.
Aston Martin Valkyrie Track Only AMR PRO wallpapers (click on image to enlarge)
Aston Martin Valkyrie AMR Track Performance Pack and exhaustive option list
Borne of the partnership between Aston Martin and Red Bull Advanced Technologies, the Aston Martin Valkyrie is a real-life expression of the uncompromising pursuit of performance. As such, it is fitting that this 150-unit road-going hypercar can now be further optimised with the AMR Track Performance Pack. The pack's track-only components - which can be interchanged with the existing road-legal parts - are set to deliver approximately 8%* quicker lap times on top of the standard Aston Martin Valkyrie.
The AMR Track Performance Pack features a new aerodynamic front clam delivering greater downforce and efficiency, a second set of all other exterior body panels, lightweight titanium brakes, track-focused suspension and a matte black magnesium performance wheel and carbon-fibre aero-disk set. Customers can also include a suite of personalised pit garage and race suit accessory options to their package, providing owners with the ultimate track day and hypercar ownership experience.
Customers choosing the AMR Track Performance Pack are also able to choose between three spectacular AMR livery designs or their own unique finish, which can be tailored using 'Q by Aston Martin – Commission', Aston Martin's bespoke VIP customisation service.
For those choosing to keep their Aston Martin Valkyrie on the road, the options are boundless. Four beautiful Designer Specification themes are available for those who want their Valkyrie to stay close to the designer's vision, featuring exclusive Valkyrie colours including Slipstream Green, Liquid Petroleum, Ethanol Silver and Maximum Orange.
Customers who have something very special in mind, there is the Ultimate Personalisation programme, which invites owners to work with the Aston Martin Design team to refine their specification, enhanced even further by 'Q by Aston Martin –The roof and rear engine cover, in gloss black paint as standard, can be customised to be presented in exposed carbon fibre, which can continue across the cantrails with a gloss lacquer and the silver textured tailpipe and muffler can become black by specification. Owners can also have the first Aston Martins with full titanium wings badges, showcasing the exquisite craftsmanship that is synonymous with the brand. Commission'.
| | |
| --- | --- |
| | |
Inside Aston Martin Valkyrie, the minimalist ergonomics of the cockpit are clothed in materials as befits a hypercar. A wide choice of alcantara colours, patterns and finishes are available for the seats, along with six bold choices of colour for the seat harness, which complements the external livery and contrasts with the choice of hardware presented in carbon fibre. The intricate craftsmanship of woven leather, first seen on the Aston Martin One-77, can be selected to add an extra element to the door pocket and arm rest trim.
All driver-focused switchgear for Aston Martin Valkyrie is positioned on the steering wheel. The switches are made in anodised silver, black or red for a stealthy or track-inspired appearance. Alternatively, customers can again enlist the bespoke 'Q by Aston Martin' service. The ultimate choice are switches crafted from titanium, which truly reflect the lightweight DNA of Aston Martin Valkyrie.
'Q by Aston Martin' offers many exquisite personalisation options, including the indulgent Gold Pack which features a 24-carat gold leaf livery that is meticulously laid under the paint lacquer. The Mokume Carbon Fibre option pack will excite the connoisseur with its 'Carbon Jewellery' adorning areas such as the inner scoop of the headlights, sidepod vanes, armrest, central interior vent and the steering wheel face plate. Created uniquely by Aston Martin's design studio, the Mokume Carbon Fibre has a beautiful and technical appearance and the obvious weight saving credentials of this material.
Aston Martin's Executive Vice President & Chief Creative Officer Marek Reichman said, "This is simply the best car in the world if you want something bespoke and we are really pushing the boundaries to match the dreams of our customers. Every single element of this hypercar, including its performance, can be personalised. The materials are very much about science, the art of creativity and the ability to create a unique solution that doesn't detract from this exceptional car's performance capability".
Aston Martin Valkyrie AMR Track Performance Pack and exhaustive option list (click on image to enlarge)