Aston Martin Vantage GTE -2020 Driver and Manufacturer WEC GTE Class Champion
15/11/2020 ASTON MARTIN WINS DRIVERS AND MANUFACTURERS' WORLD CHAMPIONSHIPS IN 2020
Aston Martin crowns its most successful GT campaign with another world title
Danes Nicki Thiim and Marco Sørensen clinch second GT WEC Drivers' title
British sportscar brand beats works Porsche and Ferrari teams to WEC double
Saturday, 14th November, Bahrain: GT World Champion manufacturer Aston Martin has won the 2019-20 GT FIA World Endurance Drivers' Championship with Nicki Thiim (DEN) and Marco Sørensen (DEN), in the season finale – the 8 Hours of Bahrain – on Saturday.
Aston Martin's all-conquering Vantage GTE had already clinched the GT Manufacturers world championship with a famous victory at the 24 Hours of Le Mans in both the GTE Pro and Am classes in September, before Thiim (DEN) and Sørensen (DEN) became GT World champions for the second time having previously won it in 2016
This marks the most successful racing season for Aston Martin since 1959, and the first time that its cars have won two world titles and both classes at Le Mans in the same campaign, in a season that saw it beat arch-rivals Porsche and Ferrari in all the major Pro competitions.
For the Danes, fifth place in the GTE Pro class in Bahrain's finale was enough to give them a final total of 172 points, 12 ahead of team-mate Maxime Martin (BEL), who finishes the season as vice champion, having won the GTE Pro class of the 24 Hours of Le Mans alongside Alex Lynn (GB). The Belgian finished fourth in Bahrain alongside Richard Westbrook (GB) who stood in for Lynn in Saturday's race.
In only its second WEC season – and the longest in the sport's history thanks to the Covid-19 pandemic – the Vantage GTE earned eight class victories and four in Pro, three of which were secured by Thiim and Sørensen in the 6 Hours of Fuji (JAP), the first 8 Hours of Bahrain and the Lone Star 6 Hours at COTA (US).
Those wins, coupled with their second place in the 6 Hours of Spa, third at Le Mans and a fifth place in China where they set the pace before misfortune struck, allowed them to fend-off a resurgence from their team-mates in the #97 Vantage. Martin and Lynn recorded a string of four podiums before their brilliant win at Le Mans.
"This feels incredible," said Thiim. "We have worked so hard for what feels like absolutely forever to win this championship. It is all I have thought about for months and it means everything to myself and Marco. The Vantage GTE has been the perfect car to race all season, and I am so proud that we are the ones that get to call ourselves champions for winning with it. I am now a two-time world champion with Aston Martin, and that's something that will stay with me for the rest of my life. Thank you to the team, to Aston Martin, WEC and all the fans. What more can I say?"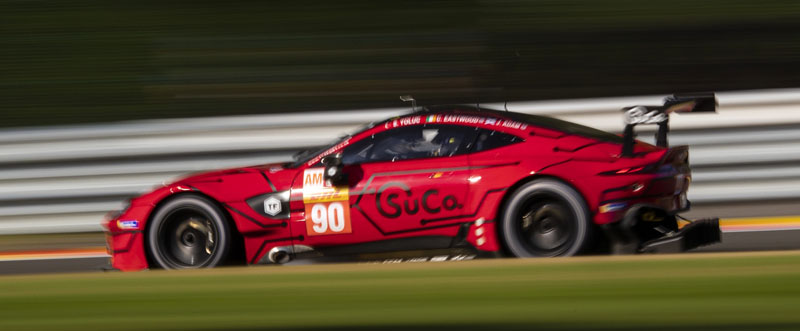 Sørensen added: "This season has been so incredibly tough, both on and off the track, and to have finally won the world championship is testament to all the people in the team that have given us such an amazing car to race. The Vantage has allowed us to fight at the front, pretty much all year, which is what you dream of as a driver because then all you have to do is race hard. We have proved this year that we can wins races and championships if you give us a car like this."
President Aston Martin Racing David King said: "We have known for a long time just how much potential was in the Aston Martin Vantage GTE. From its very inception in 2018, it was developed to win world championships and it proved it at Le Mans in September. But to win so many accolades in only its second season of racing is something very, very special. This level of attainment happens rarely in motorsport, and you cannot overstate the significance of the achievement. We as a brand are immensely proud of what Aston Martin Racing has accomplished this season and we would like to extend our thanks to the drivers, the team, our competitors and the FIA and WEC for a fantastic championship well played."
20/09/2020 ASTON MARTIN WINS THE 24 HOURS OF LE MANS AND CLINCHES THE WEC MANUFACTURERS' TITLE
Aston Martin Racing wins the 88th edition of the 24 Hours of Le Mans
Alex Lynn, Maxime Martin and Harry Tincknell take GT race victory
TF Sport records GTE-AM class honours and becomes first official partner team to win Le Mans with Vantage GTE
The double class win is Aston Martin's best Le Mans result in the modern era
The British manufacturer lifts the World Endurance Championship title
Sunday, 20th September, Le Mans: Aston Martin has won the 88th 24 Hours of Le Mans. The British manufacturer, which was last victorious in the world famous event in 2017, recorded its best ever result at the Circuit de la Sarthe by winning both GT classes and with three crews standing on the podium. The result means that Aston Martin scored enough points to secure the FIA World Endurance Championship (WEC) manufacturers' title with one round remaining.
It was works drivers Alex Lynn (GB) and Maxime Martin (BEL), along with former Le Mans class-winner Harry Tincknell (GB), who took the most coveted win in endurance racing after a flawless performance in the #97 Vantage GTE and a thrilling and nail-biting 24-hour battle with the works team Ferraris.
Lynn, who set the fastest lap of the GTE classes at 03.10 on Sunday said: "I won't lie, that was emotional… I had a few tears on the last lap. I have driven this exact car for the last three years and so much hard work and sweat has gone into it. It honestly feels incredible."
TF Sport's Vantage GTE took class-winning honours in GTE Am with works driver Jonny Adam (GB) and Charlie Eastwood (GB), and team-mate Salih Yoluç (TUR) and, with it, the lead of the WEC GTE Am drivers' title going into the season finale at Bahrain International Circuit. The British outfit is the first privateer team to win Le Mans with the Vantage GTE.
Nicki Thiim (DEN) and Marco Sørensen (DEN), who were joined this weekend by Richard Westbrook (GB), will also take the WEC pro-class drivers' title to the wire – they now lead team-mates Lynn and Martin by just 15 points after taking third place in the GTE Pro class.
In the GTE Am class, huge disappointment came for long-standing Aston Martin Racing driver Paul Dalla Lana (CAN), who had high hopes for his eighth Le Mans. Outstanding pace from the Canadian and his team-mates Augusto Farfus (BR) and works driver Ross Gunn (GB) proved fruitless after an extended pitstop put a halt to their race-leading charge.
The trio of podiums at the double-point-scoring event was enough for Aston Martin to take the WEC Manufacturers' title for the first time – the British manufacturer crossed the line 76 points ahead of Porsche and 97 ahead of Ferrari.
Tobias Moers, Aston Martin CEO, commented: "I am extremely proud of everyone who has played a part in this momentous victory today. To win both GTE classes and the WEC.
Manufacturer's title is testimony to the quality of both the team, the Vantage GTE and the Vantage road car that is the basis of the race car."
The 2020 24 Hours of Le Mans GT winners completed 346 laps of the 13.8km track. While Lynn set the fastest lap time of the GTE competitors – 3:50.321 – Thiim drove for 10:02.35 of the 24-hour race, more than any other Aston Martin Racing driver.

09/02/2018 ASTON MARTIN RACING CONFIRMS TWO-CAR GTE PRO ASSAULT ON 2018/19 FIA WEC
New Vantage to make competition debut at TOTAL Six Hours of Spa-Francorchamps
Nicki Thiim, Marco Sørensen and Darren Turner share #95 Vantage GTE
New signings Alex Lynn and Maxime Martin paired with Jonny Adam in #97
Paul Dalla Lana, Mathias Lauda and Pedro Lamy to defend GTE Am world titlle
Friday 9 February, Banbury: Aston Martin Racing has confirmed it will race two brand new Vantage GTEs in the GTE Pro category of the 2018/19 FIA World Endurance Championship (WEC) Super Season.

In a revised driver line-up, three-time Le Mans 24 Hours winner Darren Turner (GB) joins Danish pairing and former GTE Pro champions Nicki Thiim and Marco Sørensen in #95 'Dane Train' machine, while exciting new Aston Martin Racing signings Maxime Martin (B) and Alex Lynn (GB) will share the #97 entry with 2017 Le Mans 24 Hours GTE Pro winner Jonny Adam (GB).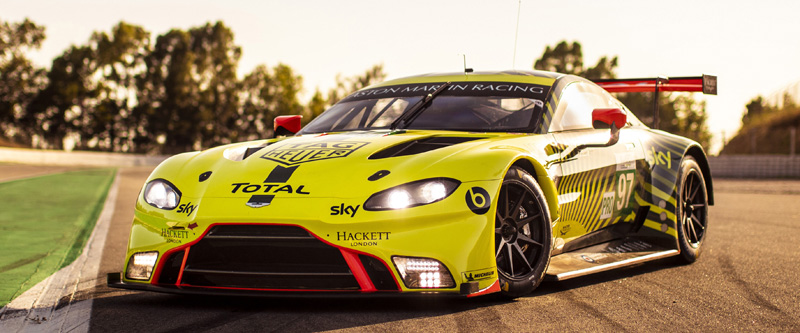 In addition to this, the ultra-successful trio of Paul Dalla Lana (C), Mathias Lauda (A) and Pedro Lamy (P) will return to defend their GTE AM world championship title in their trusty Aston Martin Racing V8 Vantage GTE.
The strength of talent within the crews reflects Aston Martin Racing's intent to hit the ground running with the new Vantage, and the seriousness with which it takes the level of competition in the GTE Pro class in the FIA WEC. The GT categories are now the most populated with manufacturers in the series, with no less than five represented in GTE Pro.
All six drivers have played a role in the extensive development programme of the new Vantage GTE which has now clocked up more than 10,500 miles of testing over the winter. Having focussed on durability for much of this time, the team is now working on the performance and tyre development phase of the programme ahead of the WEC Prologue at Circuit Paul Ricard on April 6, 2018.


For the first time in its history, the FIA World Endurance Championship will run over a 14-month period from summer-to-summer beginning in Belgium with the TOTAL 6 Hours of Spa-Francorchamps on May 5 2018. It will incorporate two 24 races at Le Mans, and a return to Spa-Francorchamps in 2019, as well as a 12-hours race at the famous Sebring circuit in the USA. The series will also include six-hour events at Silverstone (GB), Fuji (J) and Shanghai (CHN).

Team Principal of Aston Martin Racing, Paul Howarth, said "The FIA has reinvested in the World Endurance Championship, which is going to offer Aston Martin Racing the challenges it looks for when competing in the top level of motorsport. Our heritage in the sport, and our track record shows that we are all about delivering race wins and championship titles, and we look forward to fighting for both in the new Super Season format, which also offers us the opportunity to return to Sebring in America and race at great circuits like Silverstone and Spa.
"We are expecting the competitiveness of the GTE Pro category to be at the highest level ever, with a massive talent pool of drivers as well as leading car manufacturers, which will lift the standard of racing to a level it's not seen before in WEC."

John Gaw, Managing Director of Aston Martin Racing, added: "The evolution of the FIA WEC is moving in a great direction for manufacturers within the sport. The GT category offers a unique, realistic, achievable and most importantly a tough contested goal for prospective manufacturers when compared to the prototype categories. You only have to look at historic battles such as at Le Mans in 2017 to see that the GT category is alive with excitement and viewers of the series are offered the opportunity to see some of the world's top racing drivers battling it out in cars they can relate to.
"The new Vantage GTE replaces the previous Vantage in the PRO category for 2018. Our successes with the previous car were documented on the global stage from our first race at Sebring in 2012 through to scoring the GTE Pro class win at Le Mans in its final season. We hope to replicate this success in the car's final year in the AM category as a fitting send-off. The new car has been very impressive in pre-season testing and that is true testament to the whole team back in the factory who have worked synchronously with the design team at Aston Martin Lagonda and we are confident the new Vantage will be a big step on from its predecessor. We have two new drivers joining the factory driver roster for 2018 with Alex and Maxime partnering AMR stalwarts Jonny Adam, Marco Sorenson, Nicki Thiim and Darren Turner. These new signings reinforce our partnership and focus with FIA WEC and outline our strong intentions from the outset."
Aston Martin Vantage GTE Specification
ENGINE
4-litre V8 Twin Turbo
Bespoke Borg Warner turbos with integrated electric wastegates
Dry sump lubrication system
Engine repositioned to optimise mass
Power: 400 kW*
Torque: 700 Nm*
*Variable by boost
DRIVELINE/TRANSMISSION
Rear wheel drive with traction control
Xtrac six speed sequential transmission
Alcon motorsport multi-plate clutch
Mechanical limited-slip differential with externally adjustable preload
Semi-automatic paddle shift gear change
Direct acting electric gear shift actuator
Carbon fibre propshaft
CHASSIS
Lightweight aluminium chassis based on the latest Vantage production car
Steel roll cage to FIA safety standards
High-speed pneumatic jack system
SUSPENSION
Optimised geometry double wishbone suspension front and rear
Ohlins 5-way adjustable dampers
Adjustable anti-roll bars
STEERING
Electro-hydraulic power assisted steering
Quick release carbon fibre steering wheel
FUEL SYSTEM
100-litre fuel cell to FIA safety standards
Single point Krontec fuel coupling
BRAKES
Alcon monobloc six pot front callipers
Ventilated wide annulus front brake discs
Alcon monobloc 4 pot rear callipers
Ventilated rear brake discs
Integrated calliper temperature and pad wear sensors front and rear
Floor mounted driver adjustable pedal box
Driver adjustable front/rear brake bias
COCKPIT
Optimised for driver access and visibility
FIA 8862 safety seat
Six-point safety harness
Carbon fibre dash
FIA 8865 fire extinguisher system
Driver display and shift lights
Brake locking and traction control sensitivity lights
Rear view camera with Bosch collision avoidance radar system
Air conditioning
Electrically-operated driver drinks system
AERODYNAMICS/BODYWORK
Removable carbon-fibre body panels to FIA LMGTE regulations
Carbon fibre roof with regulation safety access hatch
Full length flat floor
Carbon fibre splitter and diffuser
Adjustable carbon fibre rear wing
Endurance LED bumper lights
WHEELS
TWS forged magnesium 12.5" x 18" front
TWS forged magnesium 13.0" x 18" rear
Captive wheel nut design
TYRES
Michelin 30/68 – 18 front
Michelin 31/71 – 18 rear
WEIGHT
Dry weight 1245kg (regulated base weight)
source Aston Martin Media Archives
Wallpapers :
Aston Martin Vantage GTE -2020 Driver and Manufacturer WEC GTE Class Champion

(click on image to enlarge)