Jaguar I-PACE Battery Electric SUV Concept 2016 for production in 2018
At the 2016 Los Angeles Auto Show, Jaguar unveiled its first battery electric automobile, the Jaguar I-PACE, intended for production. The Jaguar I-PACE Concept previews a production car that will hit roads in 2018. It will be the smartest five-seater sports car; a performance car, a family car and an SUV all in one.

Jaguar's design and engineering teams have taken full advantage of the opportunities presented by electrification: a cab-forward, sporting driving position, exceptional interior space and, of course, zero tailpipe emissions and instant acceleration. The battery pack and motors have been designed and engineered by Jaguar Land Rover to deliver outstanding efficiency. With over 500km range on the NEDC cycle, the average user could charge just once a week. Charging is easy and quick, with 80 per cent charge achieved in 90 minutes and 100 per cent in just over two hours using 50kW DC charging.

The interior features premium materials and beautiful, tactile details that highlight British craftsmanship at its best. There is digital craftsmanship too, with two, super-intuitive touchscreens that serve up information where and when the driver needs it.

Packed with proven Jaguar sports car technology, the I-PACE Concept features exceptional ride quality, authentic handling and a 0-60mph time of around four seconds.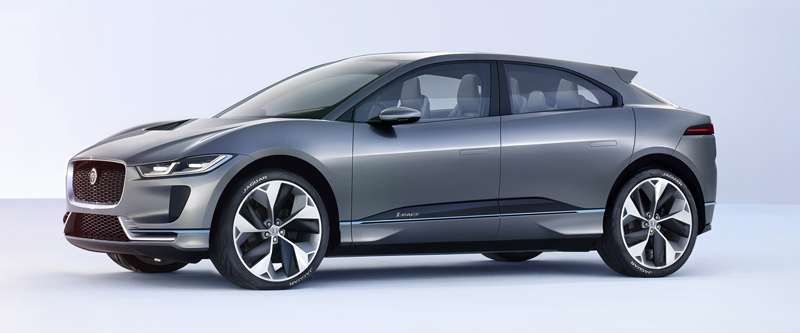 Jaguar Land Rover is committed to an electric future, starting with entry into the exciting world of the FIA Formula E Championship.

The investment in the Formula E racing programme provides a real-world performance testbed for EV technology in a high performance environment.
The series takes place on street circuits in the world's biggest cities – including Hong Kong, Paris and New York. Both the chassis and battery system are standardised, allowing the teams to compete with their own bespoke motor, inverter and gearbox. This programme will accelerate the development of Jaguar's electric powertrains in several areas,
including thermal management, battery efficiency and transmissions.
Technology transfer in Formula E is significantly quicker than in other racing series. For instance, both the I-PACE Concept and the I-TYPE Formula E car use permanent magnet electric motors and pouch battery cell technology. By providing greater insight into electric technologies, the development work on both cars will be directly helping Jaguar Land Rover engineers make better electric vehicles.
The Jaguar I-PACE Concept – Jaguar Land Rover's first electric vehicle – is designed and developed from a clean sheet, but incorporates all of the learning gained from intensive electrification Research and Development projects.
From 2012's Jaguar XJ_e plug-in hybrid prototypes to the 2015 Evoque_e project – which is looking at future technologies that could have production potential from 2020 – Jaguar Land Rover's engineers have already amassed a wealth of knowledge into Lithium-ion cell design and chemistries, electric motor design and state-of-the-art battery and thermal management systems.
This learning – which will be accelerated by Jaguar's entry into the FIA Formula E Championship – will see a zero-emission, battery electric powertrain join Jaguar Land Rover's world-class family of ultra-clean Ingenium petrol and diesel engines when the production version of the I-PACE Concept hits the road in 2018.
Under the skin, the I-PACE Concept is radically different to a combustion-engined car. Instead of a petrol or diesel powertrain it has a state-of-the-art electric propulsion system, designed and developed by Jaguar Land Rover for optimum performance and efficiency
BATTERY PACK- The liquid-cooled 90kWh Lithium-ion battery uses the latest pouch cells, chosen because of their high energy density and excellent thermal management. It is positioned as low down as possible and right between the axles, dropping the centre of gravity and improving vehicle agility.
BATTERY MANAGEMENT SYSTEM -This highly sophisticated control unit is fundamental to the I-PACE Concept's performance and range by ensuring that the battery operates at optimum efficiency under all conditions.
ELECTRIC MOTORS The I-PACE Concept features two, extremely efficient, synchronous permanent magnet motors arranged concentrically with the transmission to make them as compact as possible. Integrated into the front and rear axles, the two electric motors deliver a total output of 400PS and 700Nm – and high performance all-wheel drive.
"This is an uncompromised electric vehicle designed from a clean sheet of paper; we developed a new architecture and selected only the best technology available. The I-PACE Concept fully exploits the potential EVs can offer in space utilisation, driving pleasure and performance."
DR WOLFGANG ZIEBART TECHNICAL DESIGN DIRECTOR, JAGUAR LAND ROVER
"The cab-forward design and electric powertrain were fundamental to the way that we created the interior"
ALISTER WHELAN CREATIVE DIRECTOR, JAGUAR INTERIORS
"Electric motors provide immediate response with no lag, no gearshifts and no interruptions"
IAN HOBAN VEHICLE LINE DIRECTOR, JAGUAR LAND ROVER
Throughout the process of creating Jaguar's first purpose-built electric vehicle, the engineering team worked to a simple, single-minded mantra: the I-PACE Concept had to be a true driver's car. To reach this goal, the I-PACE Concept features two incredibly compact electric motors designed by Jaguar Land Rover. Integrated into the front and rear axles, they offer a combined power output of 400PS and 700Nm of torque, which is exactly the same torque rating as the F-TYPE SVR. Together they also enable all-wheel drive, improving dynamics and traction on all surfaces and in all weathers. "Electric motors provide immediate response with no lag, no gearshifts and no interruptions," says Ian Hoban, Vehicle Line Director at Jaguar Land Rover. "Their superior torque delivery compared to internal combustion engines transforms the driving experience. "With 700Nm and the traction benefits of all-wheel drive, the I-PACE Concept accelerates from 0-60mph in around four seconds." The I-PACE Concept delivers searing performance, unrivalled ride and handling characteristics. To achieve this, it uses the sophisticated double wishbone and Integral Link suspension setup proven in the XE, XF and the F-PACE. It will stop just as efficiently, too: an electric brake booster replaces the normal vacuum servo, ensuring maximum flexibility in the brake system control and maintaining excellent pedal feel.
"The I-PACE Concept accelerates from 0-60mph in around 4 seconds"
IAN HOBAN VEHICLE LINE DIRECTOR, JAGUAR LAND ROVER
Photos, Illustrations, Data Jaguar Media Archive and NEWSPRESS
Wallpapers: Jaguar I-PACE Battery Electric SUV Concept 2016 for production in 2018 (click on image to enlarge)