Nissan Vmotion 2.0 Concept 2017

DETROIT Jan. 9th 2017 – Nissan signaled the future direction of the company's sedan design direction and intelligent-mobility technology with the world debut of the Nissan Vmotion 2.0 concept at the 2017 North American International Auto Show. The Vmotion 2.0 concept combines a high sense of style, emotional design, space, comfort and technology to make the mobility experience seamless for busy professionals.
Presenting the new vehicle were José Muñoz, Chief Performance Officer, Nissan Motor Co., Ltd.; Chairman, Nissan North America, Inc.and Shiro Nakamura, Senior Vice President, Chief Creative Officer, Nissan Motor Co., Ltd., who addressed the Vmotion 2.0 concept's combination of unique style and advanced Nissan Intelligent Mobility technology.
"Technology is evolving. So is design. At Nissan we see design as the ultimate expression of how customers see themselves, but also an expression of the vision and values of our brand," said Nakamura. "Vmotion 2.0 previews what the future designs from Nissan will be. And it is an insightful proposition of what the future sedan could be in the coming years."
The Nissan Vmotion 2.0 concept's dramatic silhouette is characterized by a "floating roof," with a line flowing seamlessly from the steeply raked A-pillars to the trunk lip. An extended wheelbase shows off the car's generous cabin, while the distinctive body surface is defined by Nissan's "Emotional Geometry" design language. The dynamic high-tension body is crafted in a warm silver paint with copper undertones. With a layered effect for the paint finish, a glimpse of the body at different angles reveals a subtle but different hue.
There are, at this time, no official indication concerning the propulsion system. The Nissan Vmotion 2.0 is an exceptional design study with illustrations of some possible Company image evolution.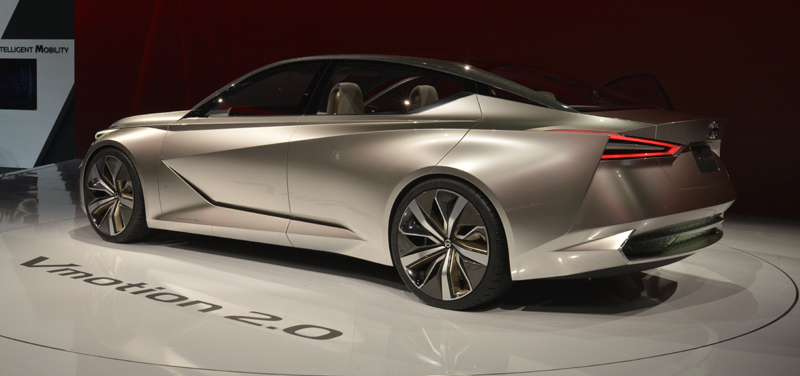 Wallpapers : Nissan Vmotion 2.0 Concept 2017 (click on image to enlarge)
photos and illustrations Nissan Media Archives and NEWSPRESS