Pinin Farina Dino 206 GT Berlinetta Speciale 1965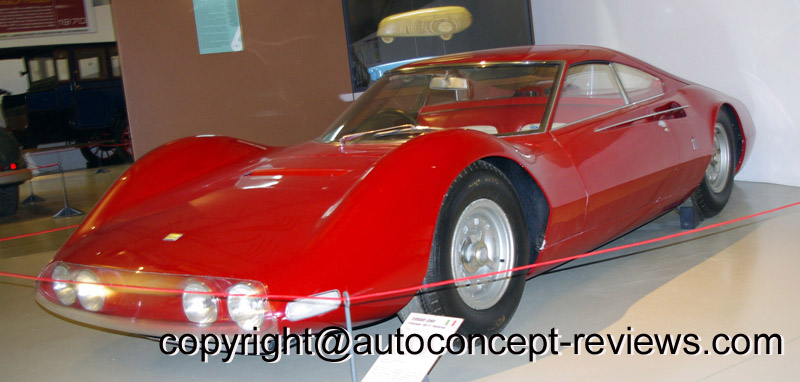 The Pinin Farina Dino 206 GT was introduced at the Paris Motor Show in 1965.
This concept car is an important step in wedge shape styling and a milestone for the future unveiling of a mid engine small Ferrari Grand Touring model. In 1967, Ferrari will introduce the mid-engine Dino 206 GT that started a long series of small mid-engine berlinetta proposed by Ferrari and culminating today with the Ferrari 488 GTB.
1967 - Dino 206 GT produced by Ferrari and coachwork by Pinin Farina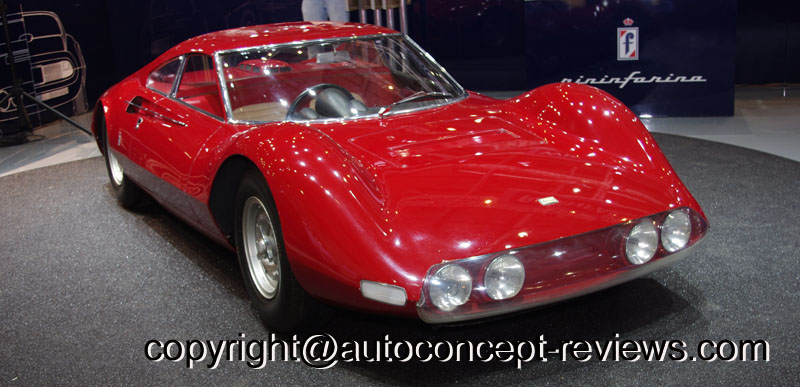 Ferrari had developed a 65° V6 for racing purpose in particular for Formula 2 where a minimum 500 units produced was required for homologation. Ferrari negotiated with mother Company Fiat for a contract concerning the commercialisation of those 500 V6 engines; it will be the occasion for the introduction of exclusive Pininfarina designed Fiat Dino Spider and Bertone styled Fiat Dino Coupé.
| | |
| --- | --- |
| Fiat Dino Spider by Pinin Farina | Fiat Dino Coupé by Bertone |
| | |
The first sports racing prototype utilizing this 2 Litre V6 is the Dino 206 SP designed to compete against mid engine sports car like the Porsche Carrera 6 or 906. The Pinin Farina Dino 206 GT was built on a Dino 206 SP chassis prepared by Ferrari.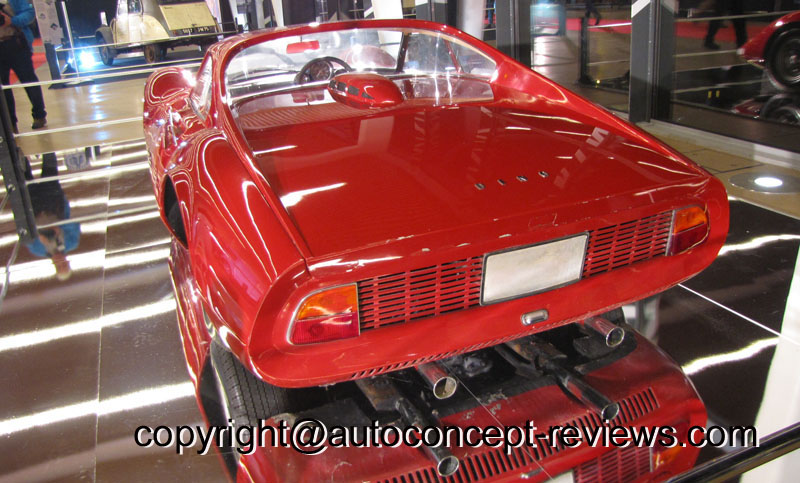 The Pinin Farina Dino 206 GT Berlinetta Speciale shows a wedge shaped body with protruding round front fenders, a lateral dihedral air intake with door handle dissimulated in the chrome ornament and most original full width front plexiglass cover covering the four headlamps. The roof and windscreen take the form of a water drop interrupted by the U shape rear window. There is a vertical Kamm type rear end to complete the body shape.

The Pinin Farina Dino 206 GT Berlinetta Speciale 1965 was exibited for several years at the Automobile Club de L'Ouest (A.C.O.) Museum on border of Le Mans circuit. It will be on sale at Art Curial Auction at Rétromobile 2017 in Paris.
Photos by Autoconcept-reviews and manufacturer media archives
Wallpapers of the Pinin Farina Dino 206 GT Berlinetta Speciale 1965 :