1906 Renault Type AK Grand Prix
The first edition of the French Grand Prix was organized by the Automobile Club de France in 1906. The event lasted two days on June 26th and 27th and the participants had to complete six runs of the 103,18 km (64,11 miles) circuit each day, between Le Mans, La Ferté-Bernard and Saint Calais resulting in a total of 1238 km (769 miles). Thirty two cars were entered in the race. Renault had prepared three Renault Type AK, with two seats, equipped with a 13 Litres (12.986 cc) capacity four cylinders engine producing 105 hp and connected to a three speed gearbox; this allowed a claimed top speed of 150 kph (93 mph).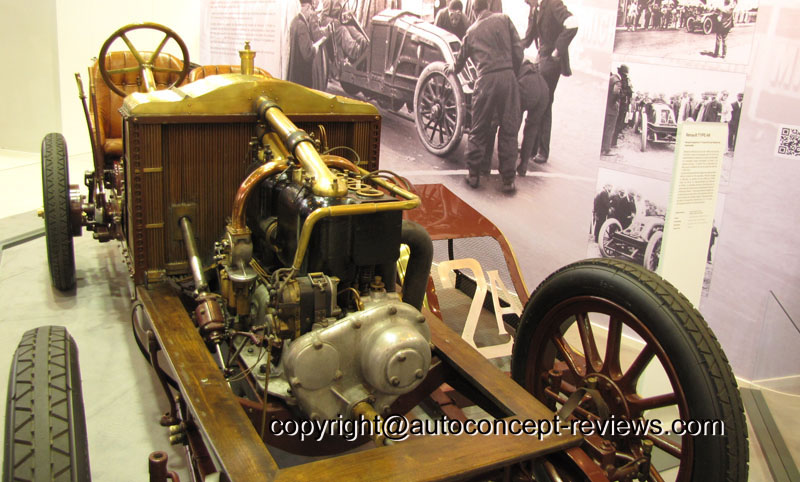 The engine had four cylinders of cast iron in two blocks of two on an aluminium crankcase. There were integral cylinder heads and mechanically operated side valves. The engine had a single Renault carburettor. The Radiator was placed against the firewall behind the engine with thermo-syphon cooling.
The Grand Prix was successfully won by a Renault Type AK driven by Ferenc Szisz, in 12 hours 14 minutes with 32 minutes ahead of the following car, a Fiat driven by Felice Nazzaro.
In this Grand Prix, the Renault Type AK was equipped for the rear wheels with detachable rim Michelin where tyres were mounted on a rim and bolted to the hub (Michelin "jante amovible") by eight retaining nuts. This allowed to change tyres in less than three minutes rather than the nasty and long lasting procedure of conventional tyre changing. The quickly detachable wheel rim system was weighing nearly 9 kg (18 lb.) and the maximum weight limit was 1000 kg (2,205 lb.). This explains why the Renault and also the Nazzaro's Fiat were equipped with the system only on the rear wheels.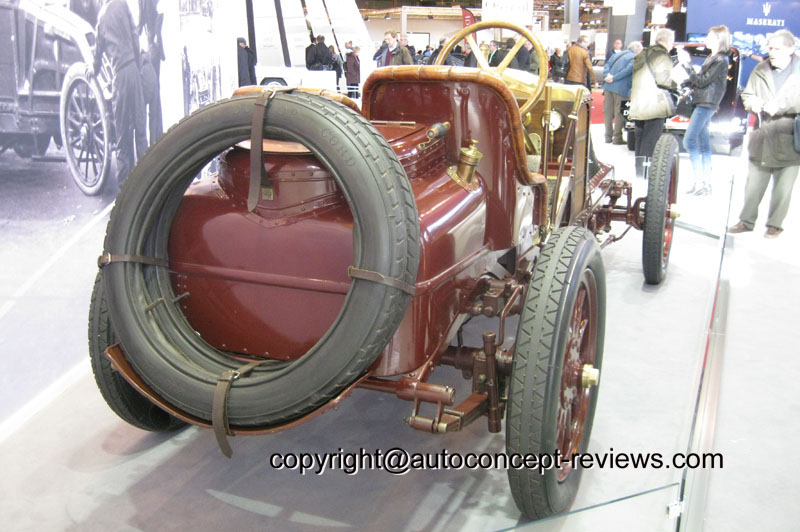 Ferenc Szisz managed to change rear tyres every two laps during the second day racing and this allowed him to keep tyres in good condition and maintain his leading position.
For the 1907 edition, Felice Nazzaro driving a 130 hp 16.286 cc Fiat won the race in front of Ferenc Szisz in an improved Renault Type AK now with four detachable rim wheels.
The three Renault Type car were again entered for the 1908 edition. This time the detachable rim wheel system had been changed from eight nuts pattern to one single nut fixing and this caused considerable troubles. Dmitri finished in eight position and Caillot was fifteenth. Ferenc Szisz had to retire with wheel troubles.
Two Renault Type AK were entered for the 1908 America Grand Prix in Savanah but the Renault showed it were nearing the end of their career as only Louis Strang finished in sixth position while Ferenc Szisz had to retire with a broken wheel bearing. Italian and German cars showed better performance with FIAT winning and Benz following.
Note - The car illustrated here is a reconstruction and does not show the detachable rim wheels at the rear discussed in the article. It was exhibited by Renault Classic at the 2016 edition of Retromobile in Paris, France.
1906 Renault Type AK Grand Prix : Wallpapers