Toyota GR010 Hybrid Hypercar wins WEC Portimao 8 Hours 2021 for the 100th Toyota participation in Endurance Racing
Last Update: Cologne, Germany,14 June 2021-One-two in race 100 for TOYOTA GAZOO Racing
TOYOTA GAZOO Racing celebrated its 100th World Championship sportscar race with a one-two victory for its new GR010 HYBRID Hypercar in the 8 Hours of Portimao following a flawless performance in Portugal.
After missing pole position on Saturday, the team responded in style to win the second round of the 2021 FIA World Endurance Championship (WEC) and earn its 32nd victory from 100 races in the series.
Sébastien Buemi, Kazuki Nakajima and Brendon Hartley, in the #8 GR010 HYBRID, won a race-long battle with their team-mates to take victory by 1.8secs from World Champions Mike Conway, Kamui Kobayashi and José María López in the #7 sister car.
With a second win from two races in 2021, following victory in the season-opening 6 Hours of Spa-Francorchamps, TOYOTA GAZOO Racing has extended its teams' World Championship lead to 22 points. In the drivers' standings, the #8 crew hold a 20-point advantage over #7 with four races remaining.
Following an exciting Hypercar battle at Spa last month, WEC's first visit to Portugal witnessed another close battle. Every second counted from the moment Sébastien took the start behind the pole position Alpine with José in third.
Only 10 seconds separated the top three at the first fuel stops. Sébastien then briefly lead when the #36 stopped earlier. The Alpine requires additional pit stops over the eight hours due to a smaller fuel tank, but consequently benefits from a lighter fuel load and shorter stops.
When Mike and Brendon took over their respective cars at the first driver changes, shortly before the two-hour mark, an incredibly close race developed at the front. Only 10 seconds separated the top three, led by the Alpine from the #7 and #8 GR010 HYBRIDs, after 75 laps.
Early in his stint, Brendon was delayed badly behind an LMP2 car, just as Sébastien had been earlier, and this cost the #8 car second place. Mike was able to pass but during the next fuel stops, Brendon reclaimed the advantage by pitting a lap earlier. Then he again lost out to Mike due to heavy traffic.
As half distance approached, Kamui and Kazuki took over driving duties with a full pit stop advantage over the Alpine. That meant Kamui lead by 10secs from Kazuki.
The team therefore appeared to have the race under control until an LMP2 car got stuck in the gravel with just under three hours remaining. As a consequence the safety car closed up the field and brought the Alpine back into contention.
When racing resumed with two-and-a-half hours remaining, the Alpine soon took second from Kazuki and pressured leader Kamui before pitting. The GR010 HYBRIDs responded and rebuilt their advantage. The #7, in Jose's hands, emerged as the leader ahead of Sébastien, who was saving fuel.
A full course yellow slowed the race with 30 minutes to go and José brought the #7 in for a short fuel stop. He returned to the track just three seconds behind Sébastien in the #8, setting up a tense finish. When José closed up to the #8 car, team policy allowed him the opportunity to take the lead and pull away. However, Sébastien was able to stay directly behind so José was asked to reverse the order as per protocol.
Sébastien therefore crossed the line to take the #8 GR010 HYBRID's second win of the season and maintain its 100% winning record, with José following directly behind and the #36 Alpine 1min 8.597secs further back after 300 laps. Hypercar battle will resume in Monza, Italy on 18 July.
Source Toyota Media Archives
May 2021- Toyota GR010 Hypercar wins WEC Spa 6 Hours
01 May 2021-TOYOTA GAZOO Racing began the Hypercar era in the FIA World Endurance Championship (WEC) with a landmark victory in the Total 6 Hours of Spa-Francorchamps following an exciting start to the 2021 season in Belgium.
Sébastien Buemi, Kazuki Nakajima and Brendon Hartley earned a place in the record books by winning in the #8 GR010 HYBRID after a dramatic and tense battle at the front, overcoming a close challenge from the #36 Alpine in second and their own team-mates in the #7 car.

In an incident-packed race, the Hypercars foght relentless from the off. World Champions Mike Conway, Kamui Kobayashi and José María López started from pole position in their #7 GR010 HYBRID and had challenged for victory but finished third following several setbacks.
Today's result marks TOYOTA GAZOO Racing's fifth consecutive win in Belgium as it begins its challenge for a hat-trick of World Championships.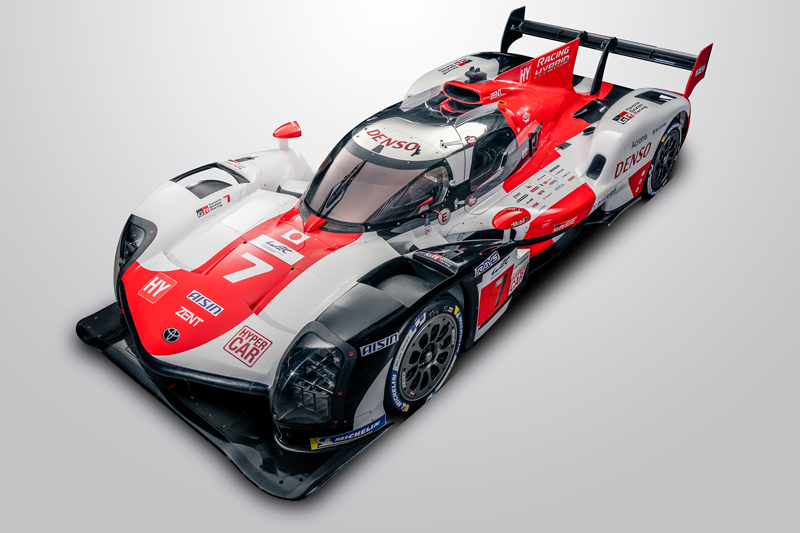 TOYOTA GAZOO Racing INTRODUCES GR010 HYBRID HYPERCAR
15 January 2021-TOYOTA GAZOO Racing begins a new era of endurance racing with the launch of its all-new GR010 HYBRID Le Mans Hypercar, which will compete in the 2021 FIA World Endurance Championship (WEC).
The reigning World Champions and three-time Le Mans winners will defend those titles against new manufacturer competitors using a racing version of the upcoming hypercar road car, featuring powertrain technology developed in the TS050 HYBRID and highlighted via new Racing Hybrid branding.
The GR010 HYBRID is a prototype racer developed over the last 18 months in partnership by engineers at the team's headquarters in Cologne, Germany and the electric hybrid powertrain experts at Higashi-Fuji in Japan.
The GR010 HYBRID incorporates a powerful four-wheel drive racing hybrid powertrain, with a 3.5litre V6 twin turbo engine, providing 680PS to the rear wheels and combining with a 272PS motor generator unit, developed by AISIN AW and DENSO, on the front axle. Total output is capped at 500kW (680PS), meaning the GR010 HYBRID's sophisticated electronics reduce engine power according to the amount of hybrid boost deployed.
The striking new look of the racing prototype reflects the appearance of its inspiration, the GR Super Sport hypercar which made its public debut during a demonstration run and ceremonial trophy return at the 2020 Le Mans 24 Hours and is currently in development. To mark this new era for TOYOTA GAZOO Racing, a new livery includes the iconic GR lettering to indicate the strong link between race and road cars.
TOYOTA GAZOO Racing enters its ninth season in WEC with the same driver line-up which brought Le Mans and World Championship glory to the team in the 2019-2020 campaign. Newly-crowned World Champions Mike Conway, Kamui Kobayashi and José María López will drive the #7 GR010 HYBRID while Sébastien Buemi, Kazuki Nakajima and Brendon Hartley race with the #8 car. Nyck de Vries continues in his role as test and reserve driver.
They have already started an intense programme of developing the GR010 HYBRID, with two three-day tests already completed as the team adapts to new regulations which are a significant shift in terms of performance and philosophy.
As part of a cost-cutting initiative incorporated in the regulations, the new GR010 HYBRID is 162kg heavier and with 32% less power than its TS050 HYBRID predecessor, with Le Mans lap times expected to be around 10secs slower. It also has bigger dimensions; it is 250mm longer, 100mm wider and 100mm higher.
For the first time since the beginning of its WEC project, TOYOTA GAZOO Racing will participate without a rear motor generator unit (MGU), with the single permitted MGU located on the front axle. This means a starter motor must be fitted on the GR010 HYBRID while fully hydraulic rear brakes are also required.
The GR010 HYBRID features state-of-the-art aerodynamics, optimised for efficiency, and developed using powerful Computational Fluid Dynamics software and wind tunnel testing. The new technical regulations permit only a single homologated bodywork package, with only one adjustable aerodynamic device. The GR010 HYBRID will therefore compete in the same specification at both low and high downforce circuits, with an adjustable rear wing modifying the aerodynamic characteristics.
For the first time, the top class of WEC and Le Mans will feture a balance of performance, meaning organisers will modify the performance of each car on a race-by-race basis, regulating energy usage and weight, targeting identical performance potential from each Le Mans Hypercar. That should ensure close racing between TOYOTA GAZOO Racing and its hypercar competitors Scuderia Cameron Glickenhaus and ByKolles Racing, as well as Alpine, which will present an additional challenge with its LMP1 car.
Those battles will be fought over six races on three continents, beginning with the 1000 Miles of Sebring on 19 March prior to the 6 Hours of Spa-Francorchamps (1 May) and the season highlight, the Le Mans 24 Hours on 12-13 June. The first World Championship endurance race in Monza since 1992 takes place on 18 July before trips to Fuji Speedway (26 September) and Bahrain (20 November), all of which are six-hour contests.
Hisatake Murata, Team President:
"It is a fascinating time for endurance racing, with the new Le Mans Hypercar class, and also for TOYOTA GAZOO Racing, with the launch of the GR010 HYBRID. This car represents our next generation of racing hybrid. During our LMP1 era, since 2012, we worked tirelessly to improve and strengthen our hybrid technology for racing. We set new standards with the TS050 HYBRID and our first loop of racing hybrid development is complete; this technology will be available to our future customers soon. Now the second stage will begin. Through our WEC participation, we will refine our racing hybrid powertrain in the GR010 HYBRID, enhance our understanding of hypercar technology and continually develop our staff. We do this with one clear goal: to deliver more exciting sportscars to our customers in the future. The GR010 HYBRID is a preview of our road-going cars and what we learn on the WEC race tracks will directly benefit our customers. For this reason, we are delighted to welcome new competitors to the top category of WEC; a tough fight on the track will inspire us to continuously improve and push the limits for better."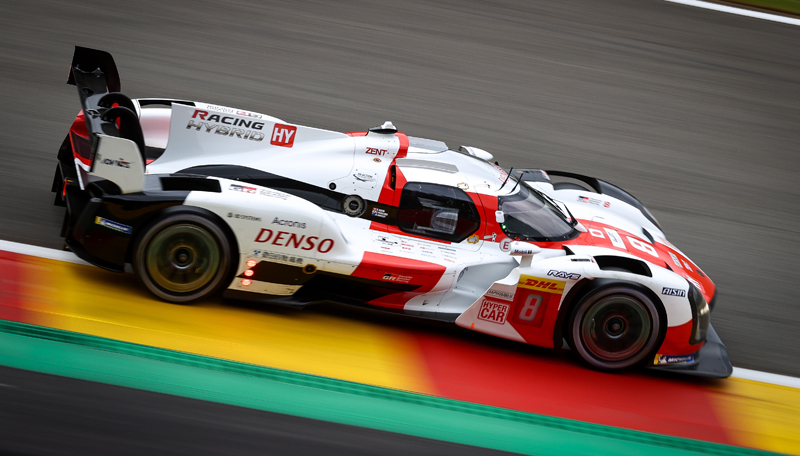 Akio Toyoda comment for victories in the Spa-Francorchamps 6 Hours
All our efforts are on making ever-better cars and this means we aim to make cars, which are reliable and secure for the drivers, who can travel to their destination in a fun-to-drive way. For sports cars, speed and strength are even bigger priorities.

This year the FIA World Endurance Championship has introduced the Hypercar class, which is strongly related to high-end road going sports cars. To compete in that class, TOYOTA GAZOO Racing introduced a brand-new race car, the GR010 HYBRID.

Our challenge began this weekend with the opening round, the 6 Hours of Spa-Francorchamps, when two GR010 HYBRIDs took part.

During these first steps of in our journey, I feel the members involved in this project have started to show the potential speed and strength of the GR010 HYBRID.

In the qualifying session, taking place over just one lap, Kamui Kobayashi in car #7 demonstrated the speed of this car with an astonishing lap of 2:00.747. After starting from pole position, Mike, Kamui and José behind the wheel of car #7 finally finished 3rd on the podium following several setbacks, while Sébastien, Kazuki and Brendon, driving car #8, showed the strength of the GR010 HYBRID by winning the race after an exciting six hours.

During our very first race, nobody knew what would happen. I really would like to say thank you to all six drivers and the team members for raising our expectations about the big potential speed and strength of this car.

On the other hand, we must keep searching for more reliability and security, as well as more speed and strength; we must continuously improve these factors in the future because the season continues and the Le Mans 24 Hours is coming.
I would like all team members to continue this way of making cars that can keep running on any roads. And I would like to deliver the technology which has been developed and honed on this car to our customers.

To all our fans, thank you for your support and encouragement during our first round of WEC 2021. I hope you will be watching our journey of making ever-better cars with TOYOTA GAZOO Racing. Thank you very much.
Akio Toyoda
Team Founder, TOYOTA GAZOO Racing.
Source TOYOTA Media Archives
TOYOTA GR010 Hybrid -Technical Specifications

ENGINE
V6 direct injection twin turbo
Valves
4 per cylinder
Engine Capacity
3.5 Litre
Fuel
Petrol
Engine Power
500 kW/680 PS
Hybrid Power
200 kW/272 PS
Battery
High Power Toyota Lithium-ion Battery
Front Motor/Inverter
AISIN AW/DENSO
Bodywork
Carbon Fibre Composite
Gearbox
Transversal with 7 gears sequential
Driveshafts
Constant velocity tripod plunge-joint driveshafts
Clutch
Multidisc
Differential
Mechanical locking differential
Suspension
Independent front and rear double wishbone, pushrod-system
Springs
Torsion bars
Anti roll bars
Front and rear
Steering
Hydraulically assisted
Brakes
Akebono mono-block alloy callipers with carbon ventilated discs
Rims
RAYS magnesium alloy 13x18 inch
Tyres
Michelin radial (31/71-18)
Length/Width/Height in mm
4900/2000/1150
Weight
1040 kg
Fuel capacity 90 litres
Toyota GR010 Hybrid Hypercar wins WEC Spa 6 Hours 2021

Wallpapers (click on image to enlarge)