TOYOTA GAZOO RACING - TS050
Hybrid LMP1 won 2019 - 2020 WEC Championship Title
Last update 2020 November 14th-
TOYOTA GAZOO RACING - TS050
Hybrid LMP1 won 2019 - 2020 WEC Championship Title
Mike Conway, Kamui Kobayashi and José María López won the 2019-2020 FIA World Endurance Championship (WEC) title with victory in the eighth and final race of the season as TOYOTA GAZOO Racing said goodbye to its three-time Le Mans-winning TS050 HYBRID with a one-two in the 8 Hours of Bahrain.
Akio Toyoda comment for victories in the Bahrain 8 Hours
Congratulations to Mike, Jose, Kamui, winning the final round and winning the championship!Sebastien, Brendon, Kazuki also performed strongly in the last race of the TS050 HYBRID.Thank you for driving well and achieving a one-two finish!

Some years ago, Toyota was referred to as the bridesmaid in the World Endurance Championship. We suffered a series of regrets but our desire to overcome those frustrations led to the development of the TS050 HYBRID in 2016.
But in the car's first year at Le Mans, the car stopped just before the victory. I was really disappointed. It made the drivers and team feel terribly frustrated. The following year, 2017, Kamui proved the speed of this car to set the fastest-ever lap, a record of 3 minutes 14.791 that still remains. However, only one out of three cars was able to finish the race. This car ran fast, but not strongly.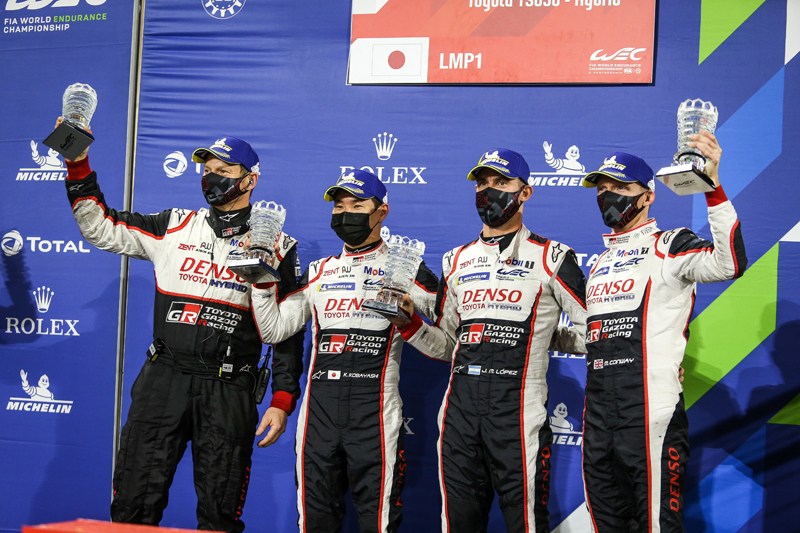 In 2018, we were finally able to reach our goal of being on top at Le Mans. And in 2019 and 2020, we were able to achieve three straight victories at Le Mans.

We were able to develop the car so that drivers could push to the limit. It took five years to finally reach this level. However, it was the 8 car in which Seb and Kazuki were driving that won Le Mans three times. Mike, Kamui and Jose's car 7 had some trouble every time. It left them so frustrated each time. To be honest, I've always been concerned about this.

This time, car number 7 won the last race of the TS050 HYBRID and won the championship too in the last year of this car.It was really nice to see the smiles of the three drivers at the end. I was relieved.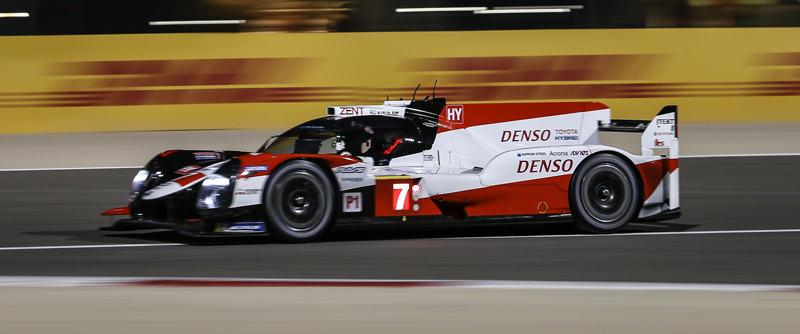 Now we can retire TS050 HYBRID with confidence. And with a one-two finish at the last race, the smiles of Mike, Kamui and Jose give us the best motivation for our next car.Then, we are able to happily move into the battle with our upcoming Hypercar.

The TS050 HYBRID competed in 34 races, took 16 pole positions, and we were able to win 15 fastest laps and 19 victories.
To the drivers, engineers and mechanics who drove this car, to all the supporters and fans who supported us, I sincerely thank you.

We will change to our new car next season and know the drivers will be able to drive with peace of mind and with all your might. The desire to make ever-better cars will not change.
We hope that all the fans will continue to support and be part of TOYOTA GAZOO Racing. Thank you.
wallpapers for TOYOTA GAZOO RACING - TS050 Hybrid LMP1 won 2019 - 2020 WEC Championship Title (click on image to enlarge)
Update- Le Mans June 16th 2019 - Toyota TS050 Hybrid LMP1 wins 2018 - 2019 super season team and drivers championship
Toyota Gazoo Racing won the FIA World Endurance Championship (WEC) teams' title for 2018-2019 WEC 14 months Super Season as well as the drivers' World Championship at the conclusion of a one-two finish at Le Mans 24 Hours
TOYOTA GAZOO Racing secured the FIA World Endurance Championship (WEC) teams' title in a dramatic and weather-affected Total 6 Hours of Spa-Francorchamps, the penultimate round of the 2018-2019 season.
2018 has seen the introduction of the WEC Super Season, named not for the many, varied, high-level entries which competed but for the fact that the season stretched over 14 months, beginning in May 2018 and ending with the 24 Hours of Le Mans in June 2019.
At Spa-Francorchamps, Sébastien Buemi, Kazuki Nakajima and Fernando Alonso in the #8 TS050 HYBRID extended their lead in the drivers' standings to 31 points with one race and 39 points remaining after their fourth win of a season which began with victory at Spa 12 months ago.

History was made in the opening laps when heavy snow hit Spa just a few minutes after the start; the first time that snow has affected a WEC race. Remarkably, racing continued for almost 30 minutes until conditions forced a safety car with Mike leading having started from pole position in the #7.
After 25 minutes, and now in bright sunshine, the race resumed with Mike leading from the #3 Rebellion. Sébastien, who had lost time in his pit stop, immediately took second place for the #8 and then moved into the lead at the end of lap 19.
Another safety car due to an accident a few moments later triggered drama for both cars. Sébastien was forced to make a fuel stop while the pit lane was closed and WEC regulations meant the team was allowed to add only five seconds of fuel.
TOYOTA GAZOO Racing won the 87th Le Mans 24 Hours with a one-two finish at the Circuit de la Sarthe following a dramatic final hour of the 2018-2019 FIA World Endurance Championship (WEC) season.
Sébastien Buemi, Kazuki Nakajima and Fernando Alonso, in the #8 TS050 HYBRID, defended their Le Mans crown and secured the drivers' World Championship in the process, winning by 16.9secs from team-mates Mike Conway, Kamui Kobayashi and José María López in the #7.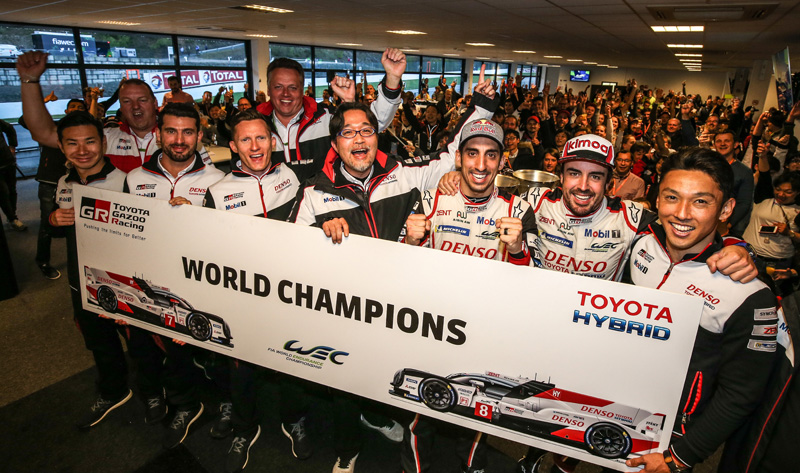 But those bare facts do not reflect the true drama of the closing stages, which denied the #7 what seemed a certain victory in front of 252,500 spectators.

On the 367th lap, with a lead of over two minutes, data on the #7 car indicated a puncture and José pitted to replace the tyre. A sensor issue resulted in the wrong tyre being identified, meaning José left the pits still with a deflating tyre. That necessitated a slow lap back to the pits when all four tyres were changed, handing an unassailable lead to Kazuki in the #8.

The #7 crew had controlled much of the contest, having set the fastest-ever Le Mans race lap of 3mins 17.297secs. Other motorsport records were rewritten too; Kazuki became the first circuit-racing World Champion from Japan and Fernando is the second driver to win four-wheel world titles in two different disciplines, having previously been crowned Formula 1 champion.
The Race goes on: TOYOTA GAZOO RACING COMMITS TO ENDURANCE RACING
TOYOTA GAZOO Racing announced on 2019 June 15th, that it will continue its participation in the FIA World Endurance Championship (WEC) beyond 2020 following the confirmation of new technical regulations.
The team already announced its participation in the 2019-2020 season, the final campaign with the current-specification LMP1 regulations, and today confirms it will be present on the grid when the new generation of top-class endurance race cars make their WEC debut in autumn 2020.
Earlier today in Le Mans, the Automobile Club de l'Ouest revealed final details of the new technical regulations following detailed discussions with several stakeholders, including newly-crowned World Champions TOYOTA GAZOO Racing.
As a result, TOYOTA GAZOO Racing is delighted to confirm it will participate in the 2020-2021 season with a hybrid-powered prototype based on the GR Super Sport road car. Both road and race car are undergoing design and intensive development at the company's technical centres in Toyota City, Higashi-Fuji and Cologne.
TOYOTA GAZOO Racing enthusiastically welcomes the future challenge of competing against other sportscar manufacturers in the new top category of WEC and the Le Mans 24 Hours and is confident in an exciting, successful period for endurance racing.
Track testing of the new race car, the name of which will be revealed at a later date, will begin next year prior to the start of the 2020-2021 season while further details of the GR Super Sport road car will be issued by TOYOTA GAZOO Racing in due course.
P. Damiens Source Toyota Media Archives
Wallpaper for Toyota TS50 Hybrid LMP1 winning 2018-2019 WEC Championship (click on images to enlarge)
Last update- Le Mans 24 Hours 2018 June 16th and 17th:
TOYOTA GAZOO Racing won the 86th Le Mans 24 Hours, taking an historic first victory at its 20th attempt.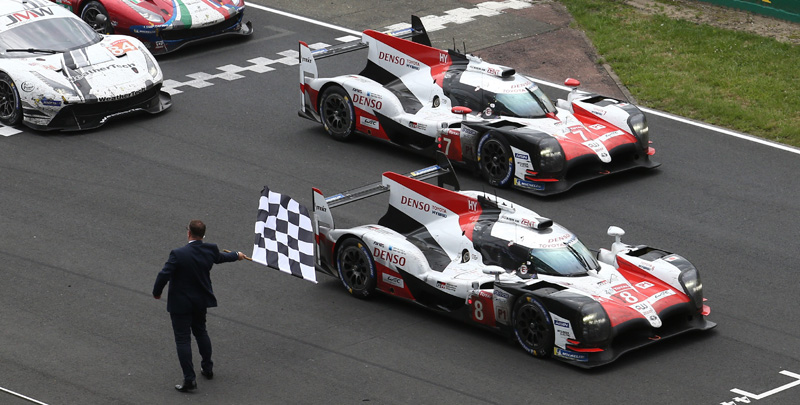 Sébastien Buemi, Kazuki Nakajima and Fernando Alonso in the #8 TS050 HYBRID started from pole position and took the chequered flag after 388 tense and often dramatic laps at the Circuit de la Sarthe to extend their lead in the FIA World Endurance Championship (WEC).

Mike Conway, Kamui Kobayashi and José María López, who led for long periods in the #7 TS050 HYBRID, made it a perfect result for Toyota with second place in front of 256,900 fans.

Toyota, which had entered 47 cars at Le Mans prior to this weekend's race and finished on the podium six times, becomes only the second Japanese manufacturer to win at La Sarthe, while Kazuki is the first Japanese driver to win in a Japanese car.
The result is a culmination of intense and determined efforts by TOYOTA GAZOO Racing colleagues from Higashi-Fuji and Cologne to continually enhance its hybrid-electric technology, which won this weekend's race using 35% less fuel than in 2012, when it returned to endurance racing.

The two TS050 HYBRIDs were evenly matched throughout the 5,286km and swapped places several times during a race which featured its share of drama for the leaders.
Two stop-go penalties for the #8 car, compared to one for the sister car, required an impressive night time stint from Fernando to come back into contention on a day when all drivers performed exceptionally in a high-pressure environment.
A late fuel issue dropped the #7 car off the lead lap so Kazuki took the chequered flag for the #8 with a lead of two laps. The #3 Rebellion finished third, 12 laps behind.

Akio Toyoda (President, Toyota Motor Corporation)

"Thank you for driving all out!" Please let me direct these words to our drivers, who drove our cars for the longest distance at Le Mans, finally in our 20th challenge. At the same time, I would like to say the same to our cars, completing 388 laps, approximately 5,300 km.
And "thank you very much for letting us and our drivers drive all out!" I want to say this to all fans who have supported us for a long time, our partners and suppliers who have battled together with us, and all the team members and the people related to our team. I want to express my sincere appreciation to all."
Hisatake Murata (Team President)

"I am so proud of everyone in the team for this result. It has been our dream to win Le Mans and finally we have achieved it. Thank you so much to everyone for their incredible hard work, team spirit and never-give-up attitude. To win Le Mans for Toyota after so many frustrations and disappointments is a truly magical moment."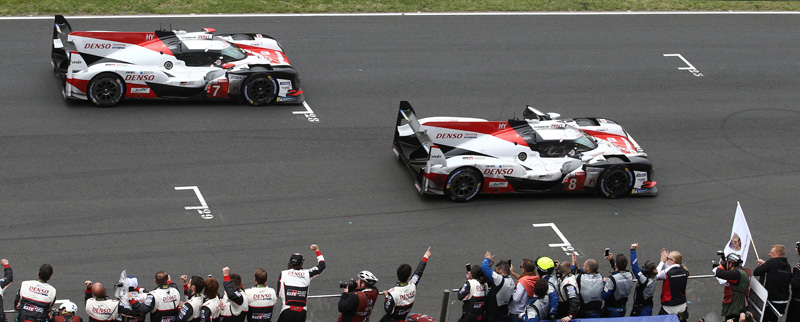 P.Damiens, Toyota Media Archives
Wallpapers Toyota TS050 2018 Le Mans overall Win (click on image to enlarge)
Update, Silverstone April 17th 2017:
Toyota GAZOO Racing scored a victory in the 6 Hours of Silverstone after a thrilling opening round of the 2017 FIA World Endurance Championship (WEC).
In a race defined by several rain showers, the #8 TS050 Hybrid of Sébastien Buemi, Anthony Davidson and Kazuki Nakajima earned victory inside the final 15 minutes in front of 50,200 spectators
TOYOTA GAZOO Racing revealed the updated TS050 HYBRID race car which will carry its hopes in the 2017 FIA World Endurance Championship (WEC).
WEC Prologue, Monza, April 2nd 2017
Monza in northern Italy hosted the first public appearance of the new car, presented alongside team management and the drivers of the three TS050 HYBRIDs which will compete this season.
Mike Conway, Kamui Kobayashi and José María López race the #7 for the full season, alongside Sébastien Buemi, Anthony Davidson and Kazuki Nakajima in the #8. Stéphane Sarrazin is joined by Yuji Kunimoto and Nicolas Lapierre in the #9 at Spa-Francorchamps and Le Mans.
The team has a clear target to earn its first Le Mans victory following an extraordinary near miss in 2016. That requires a combined effort at its technical centres in Higashi-Fuji and Cologne, with upgrades in every area of the TS050 HYBRID.
The 2017 car features a 2.4litre V6 turbo-charged petrol engine combined with 8MJ hybrid system. Significant effort at Higashi-Fuji sees the introduction of a new engine, optimising thermal efficiency by increasing the compression ratio via development of the combustion chamber, cylinder block and cylinder head.

The hybrid system too has been optimised. Motor generator units (MGU) have been reduced in size and weight while the high-powered lithium-ion battery has been developed further. Those advancements in hybrid technology will directly benefit TOYOTA customers on the road, combining with the knowledge gained by powertrain engineers to create ever-better cars in the future
To complete a wide-ranging update for the new season, engineers in Cologne have optimised virtually all areas of the TS050 HYBRID chassis, working as one team with colleagues from Higashi-Fuji.
WEC regulations for 2017 target a reduction in aerodynamic efficiency, to increase the Le Mans lap time by several seconds for safety reasons. This is achieved by raising the front splitter by 15mm in combination with a narrower rear diffuser.
Using tools such as computational fluid dynamics and wind tunnels, TOYOTA GAZOO Racing has modified its aerodynamic concept to meet this challenge; a raised nose and sharp undercut to the sidepods are the most noticeable modifications.
According to new regulations, teams are limited to two aerodynamic configurations per season, reduced from three in 2016, with the low-downforce TS050 HYBRID launched today. Tyre usage is also restricted, with each car limited to four sets, plus two spare tyres, for qualifying and six-hour races. The team has worked with Michelin to meet this challenge, including new compounds and constructions, as well as optimising the suspension geometry to limit wear.
Other rule changes are designed to enhance safety. Side mirrors now need to pass a wider visibility field test while hybrid cars must display lights to indicate normal powertrain behaviour. If the green safety light is not illuminated during a race, a car will be forced to pit for repairs.
The 2017-specification TS050 HYBRID has already recorded over 30,000km in testing this year, comprising five tests, at Paul Ricard, Motorland Aragon and Portimao, and including four 30-hour endurance tests.
With an updated car and a driver line-up including former World Champions and multiple WEC race winners, TOYOTA GAZOO Racing heads to the season opener on 16 April at Silverstone with great determination, but expecting a close and exciting nine-race LMP1 battle with Porsche.
Toshio Sato, Team President: "The whole team is motivated and determined for this season. We want to win, there is no doubt about that, but we know it will be a tough fight with Porsche. The team in Higashi-Fuji and Cologne has worked incredibly hard to update the TS050 HYBRID and the first indications are encouraging. Having a third car is an additional opportunity and we will do our best to again deliver a great spectacle for the fans at Le Mans. We know from painful experience that Le Mans is a very difficult race to win, but that is our target. Everything - the car, the team and the drivers - has to work perfectly to achieve our goal. We will see in June if we have done enough."
Histake Murata, Racing Hybrid Project Leader: "Although the TS050 HYBRID shares the same name as the 2016 car, its performance has been greatly improved by reviewing the powertrain and enhancing efficiency in all areas. TOYOTA GAZOO Racing's biggest goal for this year, as always, is winning Le Mans. The team in Higashi-Fuji has worked ceaselessly since Le Mans last year to develop a powertrain which will deliver performance over one lap and over a full race distance, enabling us to compete at the front. This has resulted in a new engine, plus modifications to the motor generator units and battery. The first results are very encouraging but we will continue to fine-tune so we are ready."
Pascal Vasselon, Technical Director: "Our 2017 TS050 HYBRID represents a significant update; the only item which is not changed is the monocoque. At several races last year we showed the potential of our car with strong performances. But to achieve our targets we need more, so as well as big aerodynamic changes, we have optimised each area for performance and weight. What happened at Le Mans last year was painful so we gave extra attention to quality management. Zero risk doesn't exist so we operate according to a given level of risk, which this year we have reduced. Pre-season testing has gone well in terms of performance and reliability so we feel positive but we also know we face a tough competitor."
Rob Leupen, Team Director: "This is a big season for TOYOTA GAZOO Racing in WEC and we are ready for the challenge. The team at Higashi-Fuji and Cologne have worked in tandem to update all aspects of the TS050 HYBRID whilst also preparing for the challenge of running three cars at Spa and Le Mans. Our targets are once again very clear; we want to compete at the front and ultimately win Le Mans and the World Championship. These are ambitious targets when faced with a formidable competitor and we know we must be on top form, with no mistakes or weaknesses. We don't race to finish second; we race to win. We embrace this challenge and working as one team will give us the best possible chance.
Toyota TS050 Hybrid LMP1 for WEC 2017 : Wallpapers
About TOYOTA GAZOO Racing in the World Endurance Championship through years:
TOYOTA first competed in the World Endurance Championship (WEC) in 1983, marking the start of a long period of participation in endurance racing. Since 1985, TOYOTA cars have raced in 18 Le Mans 24 Hours races, achieving a best result of second place on five occasions. TOYOTA entered the revived WEC in 2012, combining the expertise from TOYOTA Higashi-Fuji Technical Centre, where the hybrid powertrain is developed, with TOYOTA Motorsport GmbH's support and facilities for chassis development. The multi-national team is based in Cologne, Germany and includes engineers from TOYOTA's motorsport and hybrid department, who deliver technology and know-how back into road car development. Since 2012, TOYOTA has earned 10 pole positions and won 11 races, finishing on the podium a total of 31 times. In 2014, the team won the drivers' and manufacturers' World Championships with the TS040 HYBRID while a year later TOYOTA celebrated 30 years since its first Le Mans entry. TOYOTA Motorsport GmbH combines its role in the WEC project with its other activities, such as the supply of a World Rally Championship engine for TOYOTA's return to the category in 2017, as well as its engineering services business and customer motorsport activities.
Informations and pictures sources, Toyota Archives
Related Reviews inside autoconcept-reviews
| | |
| --- | --- |
| Toyota GR Super Sport Concept 2018 | |
| Porsche 919 LMP1 Hybrid 2017 | |
| Toyota TS030 Hybrid LMP1 - FIA World Endurance Championship 2012 - 24 Hours Le Mans 2012 | |
| Toyota TS030 Hybrid LMP1 2013 | |
| TOYOTA RACING - World Endurance Championship : WORLD CHAMPIONS 2014 | |