BUGATTI Type 57 SC ATLANTIC Chassis 57374 1936 and EXK 6 1937
The Bugatti Type 57 SC Atlantic is one of the rarest and most valuable motor cars in the world. It is indeed an iconic car built in only four examples between 1936 and 1938 by the legendary car manufacturer Bugatti. The masterpiece created by Jean Bugatti, son of the Company founder Ettore Bugatti displays a breath-taking design with teardrop style cabin and extraordinary engineering. The signature seam of rivets over the entire car is particularly characteristic and was displayed in public for the first time in 1935, in the Aerolithe prototype with itsz Elektron magnesium alloy body. Although this assembly technique was no longer necessary after the switch to an aluminium body, the rivets signature seam was retained for aesthetic reasons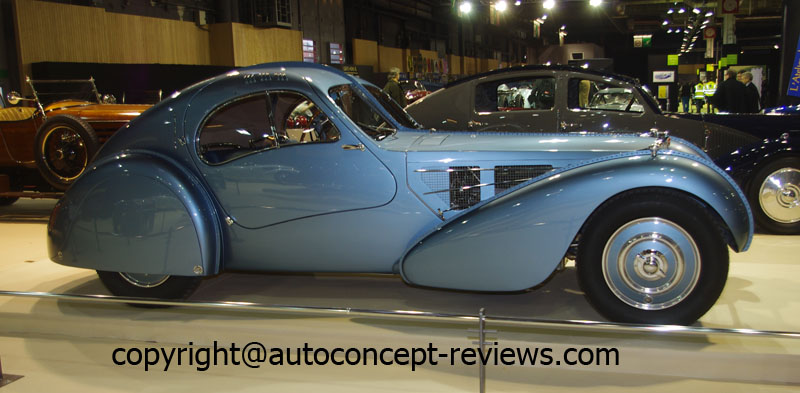 The Bugatti 57 SC Atlantic Chassis 57374 was delivered to Lord Victor Rothschild in England on September 2nd 1936. Three years later, in 1939, Mr Rothschild had the Bugatti factory install a Roots supercharger from a Type 55 engine, upgrading the model to a type 57 SC. In 1946, the actual owner Mr Oliver, a wealthy American doing duty in France as a member of the US Army Medical Corps, had 57374 shipped to the United States, where he received it in New York and proceeded to drive it home to Los Angeles. In 1953 Mr. Oliver shipped the car back to the Bugatti factory , where its engine was completely rebuilt and the correct Type 57 SC supercharger and hydraulic brakes were installed. Following Mr. Oliver's passing the Atlantic was sold in 1971 through public auction to Dr. Peter Williamson who paid US$ 59.000.
| | |
| --- | --- |
| | |
In 2003, the Bugatti Atlantic was Best in Show at Pebble Beach Concours. In 2010, the Bugatti Atlantic 57374 joined the Peter Mullin collection and was exhibited at Retromobile 2012 in Paris
The Bugatti Atlantic is propelled by 170 bhp at 5500 rpm 3.257 cc Supercharged eight cylinder in line with double overhead camshafts linked to a 4-Speed Manual Gearbox. At the frony there is a solid front axle with semi-elliptical leaf springs and telescopic shocks. At the rear there is a live axle with reversed quarter-elliptical leaf springs and telescopic shock absorbers.
Bugatti Type 57 SC EXK 6 1937

The black Bugatti Atlantic EXK 6 is the fourth Atlantic to be produced. It was entered at 2013 Concorso d'Eleganza Villa d'Este by its owner Ralph Lauren from the USA. It is also known as the "Pope" Bugatti named after the first owner Richard Pope, at the time the most important customer for Bugatti in Great Britain. The Bugatti Atlantic was classified at Villa d'Este Coppa d'Oro Villa d'Este-Best of Show by Public Referendum, Trofeo BMW Group, Best of Show by the Jury, Trofeo BMW Group Italia by Public Referendum at Villa Erba, Trofeo BMW Group Ragazzi by Young People's Referendum at Villa Erba, Trofeo Auto & Design to the most exciting design by the Jury and winner in the Class B at the concorso. -see also 2013 Concorso Eleganzia Villa d'Este .
see Bugatti Type 57 S Atlantic – Chassis 57473 - 1937
Text P.Damiens Source Photos Kenn and Paul Damiens, BMW Classic Villa d'Este
Wallpapers :
BUGATTI Type 57 SC ATLANTIC Chassis 57374 1936 and EXK 6 1937

(click on image to enlarge)