Chevrolet Camaro ZL1 NASCAR Cup and ZL1-1LE for 2018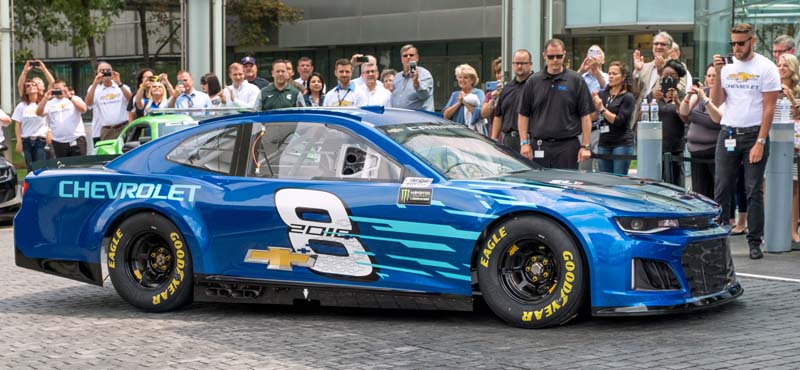 The Chevrolet Camaro ZL1 was born in 1969, when enterprising dealers used Chevrolet's COPO special-order system to create racing-intended models powered by an aluminum 427 Big Block engine
DETROIT August 2017 — A new era in Chevrolet motorsports starts today with the introduction of the Camaro ZL1 as the new race car for the Monster Energy NASCAR Cup Series.
Seven-time Cup champion Jimmie Johnson — driver of the #48 Lowe's Chevrolet for Hendrick Motorsports — joined Mark Reuss, executive vice president of GM Global Product Development, to reveal the new race car at Chevrolet's headquarters in Detroit.
"Chevrolet, Camaro and ZL1 are all synonymous with winning, both on and off the track," said Reuss. "We are thrilled to run Camaro in NASCAR next year, with the time-honored and track-tested ZL1 badge, and we're just as excited for our drivers, teams, fans and customers."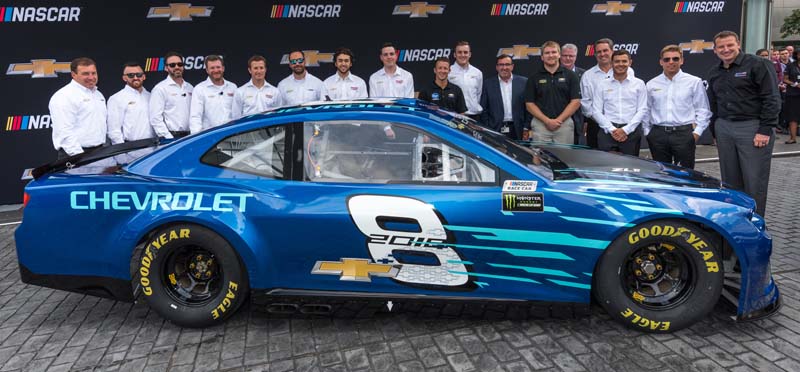 The Camaro ZL1 will make its competition debut next February during Daytona Speedweeks, which kicks off the 2018 NASCAR season. It will join the Camaro SS, which has been Chevrolet's entry in the NASCAR XFINITY Series since 2013.
"The new Camaro ZL1 is a great-looking race car with a lot of heritage behind it, which will make it a big hit with fans," said Johnson. "And as someone who's enjoyed the ZL1 on the street, I'm really looking forward to getting this new race car on the track."
Chevrolet engineers employed an array of tools, including computational fluid dynamics analysis and reduced-scale and full-scale wind-tunnel testing, to optimize aerodynamic performance while maintaining the ZL1's design character.
"Racers have long relied on Camaro to win races and championships in amateur and professional sports car and drag racing, as well as the NASCAR XFINITY Series," said Jim Campbell, vice president, Performance Vehicles and Motorsports. "We look forward to racing the Camaro ZL1 in the premier Monster Energy NASCAR Cup Series."
Joining Chevrolet today for the Camaro ZL1 race car's debut were representatives from Hendrick Motorsports, Richard Childress Racing, Chip Ganassi Racing, Germain Racing, JTG Daugherty Racing and Leavine Family Racing.
The Camaro ZL1 brings a unique, track-focused legacy to NASCAR. The ZL1 name was originally bestowed in the 1960s on a Chevrolet-developed all-aluminum racing engine that became a dominating force in road racing. In 1969, a few enterprising dealers used Chevrolet's special-order system to get the ZL1 engine installed in 69 regular-production Camaros. The cars became instant legends on the street and dragstrip.
More than 40 years later, Chevrolet reintroduced the ZL1 as the ultimate performance Camaro, developed to offer track-capable performance straight off the showroom floor. The 2018 Camaro ZL1 is powered by a 650-horsepower supercharged engine featuring a similar 90-degree V-8 configuration as the Cup racing engines.
The new Camaro ZL1 race car builds on a winning legacy carried by the previous Chevrolet SS, which has scored 70 Cup Series wins to date and contributed to Chevrolet earning a record 39 NASCAR manufacturer titles — including 13 consecutive titles from 2003-2015.
Chevrolet drivers have also achieved a record 30 Cup championships, including Jimmie Johnson in 2016.
FAST FACT: The Camaro ZL1 race car shown today wore #8, which was Louis Chevrolet's racing number.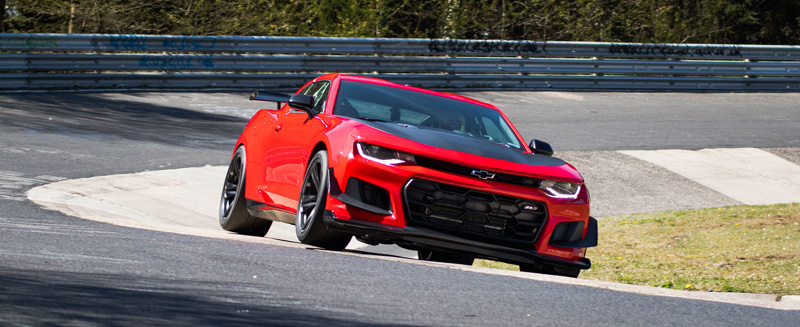 Chevrolet Camaro ZL1 1LE on Nurburgring Nordschleife
DETROIT June 22nd 2017 — The 2018 Camaro ZL1 1LE has conquered the Green Hell in a new video from Chevrolet, lapping the Nürburgring's 12.9-mile (20.8 km) Nordschleife ("north loop") in only 7:16.04, making it the fastest Camaro to ever lap the famed German track.
The ZL1 1LE's time is quick enough to place it 13.56 seconds ahead of the Camaro ZL1 with 10-speed automatic that Chevrolet tested last year.
"With chassis adjustability unlike any vehicle in its peer group, the Camaro ZL1 1LE challenges supercars from around the world regardless of cost, configuration or propulsion system," said Al Oppenheiser, Camaro chief engineer. "To make up more than a second per mile on the Nordschleife compared to the ZL1 automatic is a dramatic improvement and speaks to the 1LE's enhanced track features."
ZL1 1LE Extreme Track Package Leads 2018 Camaro Lineup
DETROIT May 2017— The ZL1 1LE — the ultimate Camaro track-day model — leads the 2018 Camaro lineup, taking the track-focused 1LE legacy to an unprecedented level. With racing-based suspension and aero technologies, as well as Goodyear Eagle F1 Supercar 3R summer-only tires,* the ZL1 1LE represents the most extreme track-focused Camaro to date.
The Camaro lineup is offered in LS, LT, SS and ZL1 models, which are available in coupe and convertible body styles. The performance-oriented 1LE package is offered on LS, LT, SS and ZL1 coupes, with track-focused content specific to each model.
"In the long, storied history of Camaro performance, there's never been another model that matches the capability of the ZL1 1LE," said Steve Majoros, Chevrolet cars and crossovers marketing director. "With the addition of the new 650-horsepower ZL1 1LE, the Camaro lineup is more diverse and exciting than ever, offering customers the ability to select and personalize their ultimate performance car."
Additional ZL1 1LE highlights include:
◾Downforce-producing aero: Unique features include a carbon fiber rear wing, specific air deflectors and dive planes on the front fascia that produce grip-generating downforce to help the car stick harder and drive faster in turns.
◾Adjustable suspension: Racing-derived, lightweight Multimatic DSSV® (Dynamic Suspension Spool Valve) dampers front and rear offer exceptional wheel and vehicle control. The front-end ride height is adjustable, along with the camber geometry. The rear stabilizer bar also offers three-way adjustability.
◾Wheels and tires: New, specific lightweight forged aluminum wheels are an inch wider but an inch smaller in diameter, front and rear, than standard ZL1 wheels and are used with new Goodyear Eagle F1 Supercar 3R tires that deliver max lateral grip of 1.10g. The overall footprint grows approximately 10 percent over the ZL1, but the wheel-and-tire package weighs about 3.3 pounds (1.5 kg) less per corner.
◾Lighter weight: The lighter wheels and dampers, along with thinner rear glass and a fixed-back rear seat, contribute to an approximately 60-pound (27 kg) lower curb weight than a standard ZL1 Coupe.
◾Supercharged performance and more: The power behind the ZL1 1LE is the 650-horsepower, supercharged LT4 engine backed by a six-speed manual transmission featuring Active Rev Match. Brembo brakes are also included, along with dual-zone automatic climate control, Bose premium audio system, heated/ventilated front seats and heated steering wheel.
Camaro ZL1 Highlights include
◾Camaro ZL1 challenges the most advanced sports coupes in the world, with unprecedented levels of technology, refinement, track capability and straight-line acceleration
◾Track capability comes standard, with features including 11 heat exchangers for optimal powertrain cooling
◾Powered by the LT4 supercharged 6.2L V-8 engine rated at 650 hp (485 kW), and either a six-speed manual transmission with Active Rev Match or a 10-speed paddle-shift automatic
◾The 10-speed paddle-shift automatic offers faster upshifts than the Porsche PDK transmission and features a wide, 7.39 overall ratio spread
◾Performance specs:
◾0-60 mph in 3.5 seconds
◾Quarter-mile in 11.4 seconds at 127 mph
◾1.02g max cornering
◾60-0 mph braking in 107 feet (35 meters)
◾Handling capability starts with the lightweight, stiff structure of the Gen Six Camaro, married with specially calibrated Magnetic Ride suspension and an electronic limited-slip differential
Seven-time NASCAR Cup champion Jimmie Johnson — driver of the #48 Lowe's Chevrolet for Hendrick Motorsports - drives up in the Chevrolet 2018 Camaro ZL1 NASCAR Cup Race Car at it's world debut Thursday,August 10, 2017 in front of the General Motors Renaissance Center Global Headquarters in Detroit, Michigan. The Camaro ZL1 will make its competition debut next February during Daytona Speedweeks, which kicks off the 2018 NASCAR season
Chevrolet Camaro ZL1 NASCAR Cup and ZL1-1LE for 2018 : Wallpapers (click on image to enlarge)
P.Damiens - Photos and Information General Motors Media Archives
Related reviews inside autoconcept-reviews :